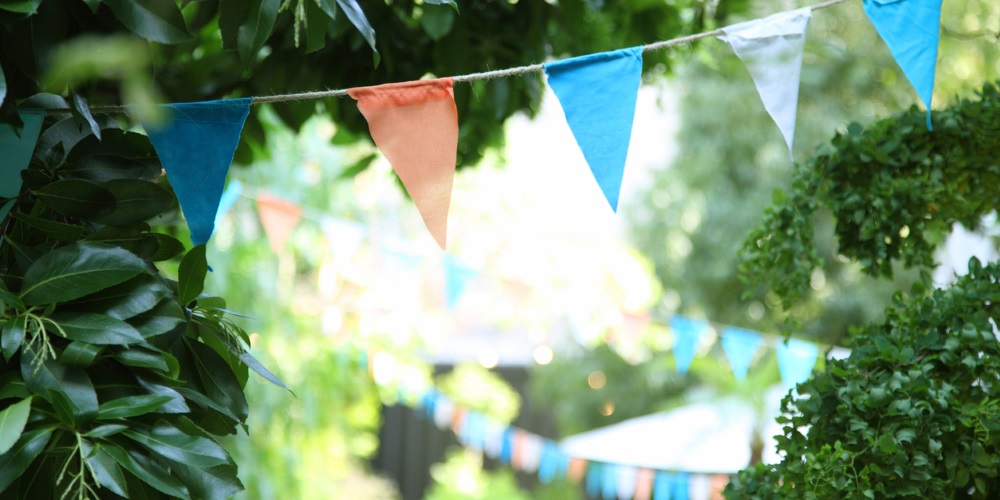 On this page you will learn:
The first points you need to think about when choosing your gazebo including:
The pros and cons of different uses for the gazebo and what you need to think about
How to light and heat a pop-up gazebo
Sometimes a marquee or pagoda will be more suitable for particular needs. We'll point out when that is, so you can explore other, more suitable options.
What to consider when choosing a gazebo for a garden party:
What will the gazebo be used for?
Gazebos are really flexible and people use them very differently for parties depending on what they need. We'll go into detail about the pros and cons of each option further down the page, but here are some ideas to get you thinking:
This also has a huge impact on the kind of accessories you'll need including heaters, lights, dance floors, tables and chairs.
How big does the gazebo need to be?
To figure this out you need to take into account:
What you are going to use the gazebo for (see above)
How many guests you are expecting
If the gazebo is just going to be a smoking area you won't need to take into account extra room for chairs and tables, for example. Also, consider that not all smokers will be using the space at the same time anyway. On the flip side, depending on the type of event it is, lots of people use smoking areas for activities other than smoking. People might use it to get some air, have a break from the event or to accompany their friends.
So people can use spaces very differently and this needs to be considered when picking a gazebo or covering.
Take a look at our size guide to figure out the size that you need.
How do you want to decorate the gazebo?
Most gazebos will be able to handle some banners or fairy lights hooked around their frame, but not all gazebos are suitable to use with more heavy-duty lighting or for use with a dance floor.
Frames need to be sturdy enough to take the weight of bigger lights. You can use any of our range of lights on Gala pop-up gazebos. You can also use a dance floor under the gazebo.
Where will the gazebo be placed?
Another factor to consider is where the gazebo is actually going. If you need electricity you should think about how you're going to get this to the gazebo which can change where you place it. If you're only using a small amount of electricity you can hook up your lighting and whatever else you need to the mains using extensions leads. Otherwise you might want to hire an electricity generator.
What accessories can you use in a gazebo?
Lights
Dance floor
Bar
Tables and chairs
Is a gazebo what you need?
Depending on your needs a different style of tent might suit you better. Marquees are probably more suitable if you'd like most of your event to happen in the tent and pagodas offer a sophisticated style that you might prefer.
To cover the bar area
If you are only using the gazebo to cover the bar you need to take into account stock, room for bar staff (or guests) to serve the drinks and whether you want to give people standing at the bar shelter as well. Questions to answer:
Are you going to store the drinks on the bar, on a separate table or shelf or on the floor?
How many different types of drinks are you going to serve?

Beer and wine?

+ soft drinks?
+ spirits?

How many drinks are you going to have available?

General rule of thumb for quantity of alcohol is that guest will want to drink three drinks in the first two hours and an additional drink per hour after that. But personal experience and what you know of your guests can change this. This affects how much space you need in the bar area.

Do you need room for servers to stand behind the bar?

Some people set up a bar on a help yourself basis, others will have servers behind the bar ready to take orders and pour drinks, another alternative is to have staff circling the party handing out drinks rather than have guests go direct to the bar. In this instance you will still get guests going to the bar for special requests.

Have you got enough space for guests to stand at the bar and order?
Here's a rough guide to the dimensions of different drink boxes so you can start to think about how much space the drinks are going to take up:
| | |
| --- | --- |
| 12 bottle cardboard wine box – 396 x 271 x 340mm | 24 bottle cardboard beer box – 386 x 306 x 248mm |
Back-up in case it rains, ideally having most people outside
This is a tricky one to plan for. If your party is relatively small then a gazebo, or a couple of gazebos are good emergency back-ups in case it rains. Pop-up gazebos take minutes to assemble, so you can even have them inside or in a garden shed, ready to go if the rain comes down. This is probably the best option if the weather is meant to be nice, but you just want some peace of mind.
For a larger event your best option is probably a marquee because it provides enough space to allow the party to continue without much disruption if the weather turns. Gazebos are smaller, and you don't want a situation where people are left huddling, cramped under a canopy waiting for the rain to stop – this isn't a great party environment!
If you do want to choose gazebos for this reason, make sure you think about the amount of people coming and consider getting more than one.
Specific smoking area or small outdoors area/chill out area
Gazebos are a great option to allocate a specific smoking area if your party will be indoors or even if you are using a marquee for the main event. Designating a specific area means you can keep smoke away from non-smokers, offer proper ash trays so smokers don't have to put their cigarette butts on the floor and means there should be a smaller floor area where stray cigarette butts could end up. If you are going to put out ash trays think about a table to put them on.
People use smoking areas for other reasons, for example to take a break from the party or have conversations away from the main event, so this kind of space tends to be appreciated by smokers and non-smokers alike.
As a dance floor
If you set up a few gazebos next to each other you can use them as cover for a dance floor, as long as the floor underneath is sturdy. This can work out cheaper than a marquee.
The main party area
We have some larger gazebos that you can attach side walls to so that they become a more closed, tent like space. For small parties this might be suitable. Generally however, if you want your entire event to take place under a tent, a marquee, which is more spacious and generally a little more weather resistant is a more suitable option. Marquees are designed for this kind of use in a way that gazebo's aren't always.
Eating area or to cover food
Lots of garden parties offer food in some form whether it be a few nibbles, a buffet or some salads to go with a BBQ. If you only need a cover for the food a marquee will be too big – a gazebo is a perfect alternative. Like planning for a bar, the main questions you need to answer are related to how much food you need to serve and the size of the tables. Questions to answer:
How much food do you want to serve and how much table space will it take up?
How do you want people to move around the tables?

You can either have it set up so people come up to the table on one side only or lay it out so that people can circulate around it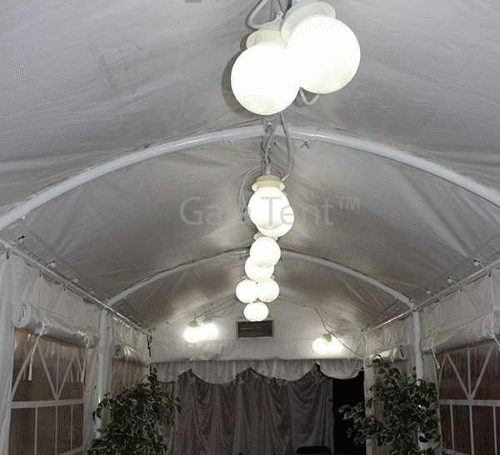 What lights can you use in a gazebo?
LED globes lights
LED globe lights provide much better light than fairy lights and can clip easily to the main frame of your gazebo. They are more expensive than fairy lights, but much more suitable if you are having a lot of your party under the gazebo.
Fairy lights
Fairy lights are a good option for lighting your gazebo as they are easy to wrap around the frame. You will most likely need more than one set since they won't be that bright. Try and find fairy lights that are designed for outdoor use and are waterproof.
Stake lights or lights that go in the ground
To add extra light you could try using some garden path stake lights to go with your fairy or string lights. The only danger in using these types of lights is that guests can trip up on them since they are planted into the ground. If you are going to use them try and put them well out of the way.
Can you use heaters under a gazebo?
The short answer is yes, but you have to consider safety. If your gazebo will back on to a wall then a wall mounted heater, like the Venus Technoheater is an option.
The safest type of heater to use under a gazebo is a gas heater as long as you ensure the gazebo is well ventilated. A heater with a flame or an electric element is more of a fire risk.
Find out more about events & situations where you can use a gazebo :
Browse our gazebos here.