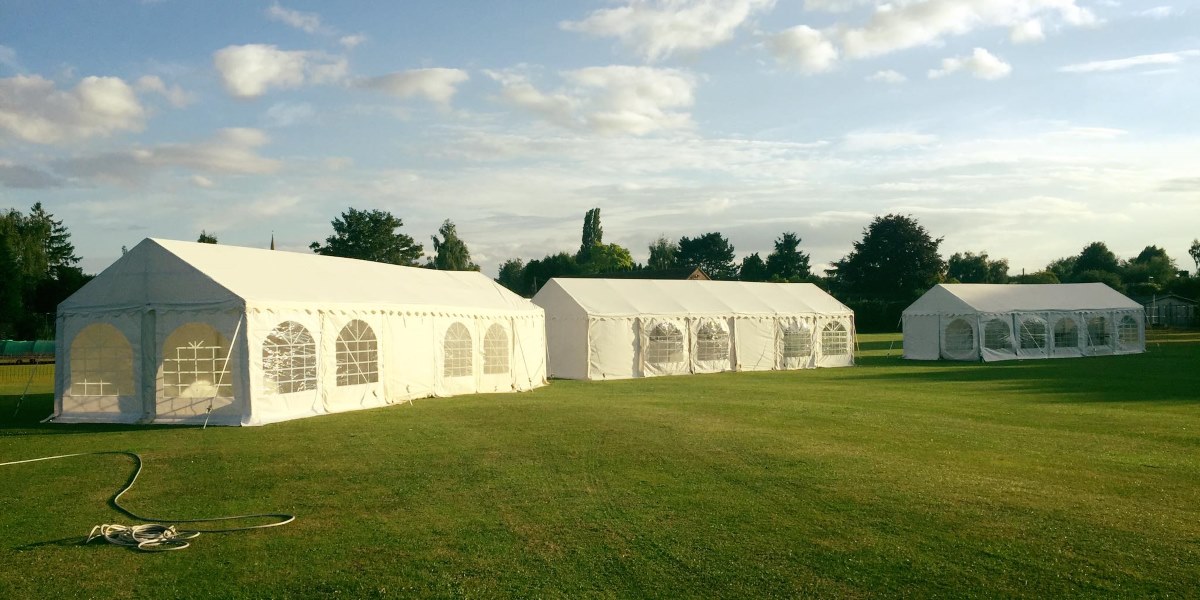 Gala Tent aren't the only company out there selling marquees. So, as with every purchase you make, you have to decide who best to buy from. Ask yourself:
Whose products most accurately fit what you're looking for?
If your budget is what matters most, are you happy to compromise on quality?
Will you pay more if it means getting a better-quality marquee?
Here, we make the case for why Gala Tent should be your first port of call when shopping for a marquee.
Materials matter
Like every discerning shopper, you want the most for your money. Your budget may limit you to the lower end of the market but you'd still like to avoid buying something you'll need to replace after a single use.
Sadly, there are a lot of sellers out there—particularly on online marketplaces like Amazon and eBay—who cut corners so they can keep their prices low.
Covers made to last
Most marquee covers—the canopy, side and end panels, and so on—are made of plastic, whether it's PE (polyethylene) or PVC (polyvinyl chloride). The quality of the plastic used can make the difference between a good marquee and a substandard one.
These plastics come in various thicknesses and weights. Like paper, they're measured in grams per square metre (gsm). Generally, the higher the gsm (so the thicker and heavier the plastic), the better the quality.
When we talk about quality, we mean:
Durability – How well does the plastic resist wear and tear? Will it last?
Lightness – Despite its thickness, is the material easy to handle, put up and take down?
Appearance – Does the material look stylish and classy, rather than cheap?
If you find a marquee for what seems like a remarkably low price, chances are the covers (if not the whole structure) are made of cheap, lesser-quality plastic, with a gsm of 120 or less. As a result, the marquee is more likely to leak, tear or damage easily and will be good for only one use (if that!).
At Gala Tent, we never use anything other than high-quality PE and PVC to make our marquee covers. And we're constantly researching, refining and improving to ensure they always meet the highest standards.
The marquees in our entry-level Original range have covers made of durable 240gsm PE, while those in our Elite range use heavy-duty 650gsm PVC. In both cases, we make the cover as one big roof section so it stays taut and doesn't sag over time.
Beware those sellers who claim their marquees have covers of equal or even better quality. Often, they'll advertise their product as being 650gsm, for example, when on closer inspection the material is far thinner and weaker. It's usually the case that the plastic has been layered with cheap coatings to give it the illusion of being much thicker.
You might also find that some cheaper, mass-produced marquees have poor stitching that frays quickly or bursts in blustery wind. Or, worse, lets in rainwater and soaks your guests!
We double-stitch our PE covers for added strength and water resistance. We weld the seams of our PVC covers to give them a fully watertight seal and fit all our side panels with Dutch-lacing fastening for greater security. You'll only ever see Dutch lacing on the highest quality marquees.
Whether you choose a PE or PVC marquee, you'll be well protected from wind and bad weather.
To read our guide to choosing the best material for your marquee, click here.
Sturdy, reliable frames
The marquee covers may do the lion's share of the work, but they wouldn't be much use without a frame to support them. And as with covers, there can be a gulf in quality between the online marketplaces/high-street outlets and specialist retailers such as Gala Tent.
Our marquees have frames consisting of interlocking tubes made of either steel or aluminium. Both types are hard-wearing and built to last, but steel frames are the stronger of the two.
We powder-coat the tubes to strengthen them and stop them from rusting. We never use galvanised or zinc-coated paint as it can stain the marquee material and, more importantly, cause metal poisoning via contact with skin. Unfortunately, some of our competitors do the opposite, so keep this in mind when shopping around.
Also crucial are the corner joints that the metal tubes lock into. These joints hold the marquee together and keep it upright in windy weather.
Where some of our competitors provide joints that are poorly welded and at risk of breaking—or made of cheap plastic rather than metal—Gala Tent uses the same powder-coated, high-quality steel as the poles, with special bolts that you can tighten by hand.
And customers of some high-street retailers have found their marquees to be so fragile that they've had to weigh them down in even the lightest of winds. Rest assured that Gala Tent marquees will remain sturdy and secure in most weathers, although we do supply weights and weight bags for added peace of mind.
Safety as a priority
Having a robust marquee that won't collapse on people is one thing. But there are other considerations to keep in mind when it comes to safety—the main one being fire.
Always make sure that any marquee you buy comply with the British Standards for flammability testing (these are BS5438 and BS7837). These standards concern the ease and speed at which textiles, fabrics and other materials catch fire and spread. There are strict requirements that marquee fabrics must meet in terms of being able to slow the rate at which they burn.
We put all our marquees through rigorous independent testing to ensure they meet the BS5438 and BS7837 ratings.
Aftercare
We're proud of our products but we take equal pride in the level of service we give our customers. We won't just sell you a marquee then forget about you.
We provide a full range of spare and replacement parts. Compare this to some of our competitors, whose marquees come pre-packaged from a wholesaler. Because of this, you may struggle to buy spare parts as they're simply not available.
And unlike other retailers who shy away from offering warranties, we give you a 12-month warranty on our PE marquees and a three-year warranty on our PVC marquees (covers only; the frame is guaranteed for 12 months).