In our new and improved blog, we're eager to give our customers a platform to promote their own work, and talk about how their Gala Tent product has helped their business to grow and stand out.
The aim is to speak with as many businesses and organisations from as many diverse industries as possible, so that when you're ready to make your own investment, you'll find somebody else in your industry who's done it all before and will offer great insights into how to make the best of your gazebo or marquee.
First up, we spoke with
Joanne Bell
from
PeachyKeen Ltd
, so let's get in and see what she had to say.
PeachyKeen Ltd
PeachyKeen Ltd
is a Human Energy Company. Based in Kirkaldy, Fife, they are a renewable energy company that utilises human movement to generate electricity! PeachyKeen predominantly manufacture fitness and playground equipment, and also offer Sustainable Spin Classes where participants power the lights and music! They supply a wide range of Human Powered activities for an off-the-grid experience, including Pedal Powered Cinema, Scalextrics, and Smoothie Bikes! PeachyKeen Human Powered Activities can be found at events across the UK in a multitude of locations, with their distinctive orange pop-up gazebo!

PeachyKeen have a
3m x 3m Gala Shade Pro 50 Gazebo
, with a fully bespoke canopy plus ground bars and plain sidewalls. Being in Scotland, which has a reputation for its unforgiving weather, the Pro 50 was the best suited frame for
Joanne and PeachyKeen
, and how has the tent helped out?
Joanne had this to say,
"We use it regularly at events at Primary Schools through to Corporate functions, both indoors and outdoors. The branded covers match our van."
"We first came across Gala Tent at the Kelso agricultural show. Having walked around different tent brands at the show, what stood out to us most was that they were literally still standing! After a weekend of heavy rain and high winds, the Gala Tents were the only ones that still had marquees and gazebos erected in the field. They look professional, substantial and a simple demonstration showed us how easy they are to assemble – we were sold!"

As you can see from the images that Joanne sent us, the vibrant design of the tent with its crisp colours and clean logo placement really helps the tent to stand out from the crowd. And what advice would Joanne offer to anybody in a similar industry looking to invest in a new trading/promotional tent?
"Just be aware that you are investing in a great quality product! It's worth considering the appropriate accessories during the initial investment, for example the outdoor securing kits for both hard and soft ground. We have found ourselves at the odd weather-beaten event where our gazebo is the only one left standing."
To find out more information about PeachyKeen Ltd and the great work that they do, please go and visit them at the following places: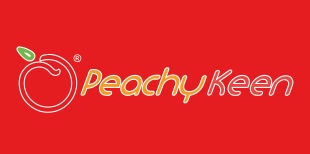 And to get more information on the Gala Shade Pro 50 Gazebos, click
here
or give us a call on 01709 242454 to speak with one of the team, and for inspiration for branding and custom gazebos, click
here
.
To download a pop-up gazebo brochure to take Gala Tent with you, please click
here.