This month, Gala Tent Ltd will celebrate twenty years at the very top of our game, and we'll be celebrating in a BIG way.
Since 1999, when our MD first dipped his toe into the marquee retail market, Gala Tent has grown to become the market leading, award winning supplier of choice to many industries, from Automotive to Zoological, and has become synonymous with high quality, affordable commercial marquees and gazebos.
So what makes Gala Tent stand out against the competition and stand up to the test of time? Sure, we can sing and dance about how great we are, and we often do, but let's back it up with some real reviews from our satisfied customers over the past twenty years as we go.
Here's the first of our Seven Reasons Why YOU Should Purchase from Gala Tent.
Superior Quality Products
Gala Tent Marquees and Gazebos are, and have always been developed exclusively in-house by our Procurement Director Andrew Scott, using customer feedback as a guide on what works and what does not. These tweaks and developments include patented technology that you will only find in a Gala Tent structure, and which enable us to remain several steps ahead of the competition both from an operational and product perspective.
If you think all Gazebos are the same, consider the Gala Shade Pro 50; many other suppliers offer cheaper structures, which to the naked eye might appear identical to the Pro 50, but on closer inspection, you'll see the external peak pole spring which acts like a shock absorber against the wind. You'll see 600 denier PVC-Coated Polyester covers in twelve different covers with a hydrostatic head of 6000. You'll see ultra solid profile aluminium joints and fixings as opposed to the more brittle cast alloy that many other tents use. You'll see 2mm gauge aluminium framework. You'll see an almost weatherproof gazebo.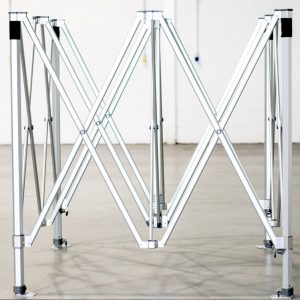 The Pro 50 Frame uses 2mm gauge aluminium with 50mm hexagonal legs, which are much more robust than square or circular uprights.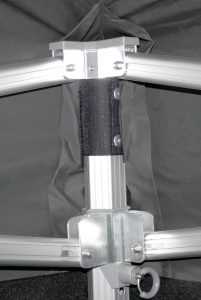 All of the joints and fixings on the Pro 50 are profile aluminium, as opposed to the more brittle cast alloy
Gala Tent marquees are the tent that made us famous, and the reason why thousands of customers will make a purchase after seeing one of our marquees at a festival, or an agricultural event, or simply at a garden party. Our superior quality marquees are manufactured using the same sturdy galvanised steel framework, whether you choose the standard Polyethylene (PE) or the Elite and luxurious PVC marquees. The PE in our entry level tents is an industry leading 240gsm, and the self-cleaning PVC in our Elite marquee range is a reassuringly thick 650gsm. With Dutch Lacing and heavy duty Velcro to connect the marquee sidewalls together and help to create a wind-resistant utopia, privacy blinds as standard, and a three-way combination door in both end walls, it's not hard to see why our satisfied clients return again and again to Gala Tent for event structures.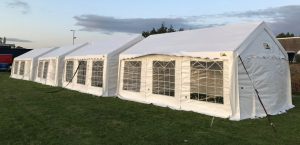 4m x 6m Gala Tent Marquees have proved to be one of the most popular sizes in the past 20 years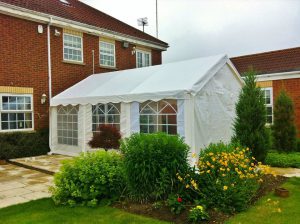 Versatile and Elegant; Ideal Garden Extensions
Here's a review from Anni G of the Rotary Club from September 2018:
"Being responsible for spending our Rotary District's money on some new branded gazebos, I found the whole comparison issue very difficult. So many products on the market, different weights, strengths and so on. I had many many conversations with several companies. However, Gala Tent never failed to return my calls, and sort out requirements and prices. Even when I was stuck with a budget and one printed item had been misunderstood, they understood this and sorted it. The gazebos are now in use over Nottinghamshire, Derbyshire and South Yorkshire, and everybody who uses them is well pleased…"
And thank you to Philip B for this wonderful review from August 2019:
"In the past fifteen years or more I have purchased approximately 22 Gala Tents of various sizes. We still use them all, how many would last this long?"
So when you're shopping around for your next marquee or gazebo, remember that not all of them are the same. Be sure to check the frame type, the height of the apex, the thickness of the material used in the covers. But above all, be sure to check that it's a Gala Tent!
This is the first blog of seven to come over the next week or so as we countdown to our official birthday celebrations. Please come back and see what else sets us apart from the competition!