Gala Tent has been the undisputed market leader in our field for over twenty years
, supplying commercial quality gazebos and marquees to the event industry. Our sister company, Gala Performance, which specialises in automotive supplies, has been the
UK's ONLY approved supplier of Swisstrax flooring
for three years, and from this month, it gives us great pleasure to announce that Gala Tent will also become proud suppliers of Swisstrax Modular Flooring.
Swisstrax is an incredibly strong and versatile flooring solution that has been installed in garages, car showrooms, and car care workshops up and down the country, but did you know it has also been used in gymnasiums, wine cellars, swimming pools, in and around bars and restaurants, and even in aircraft hangars? Well, it has, and holds its position as the world's leading modular flooring system with great cause.
The SEMA vehicle expo in Las Vegas is awash with Swisstrax
, super-celebrity
Jay Leno
is a huge advocate of the flooring, and
Gala Performance
has provided flooring to luxury properties around Europe for classic supercar collections to sit proudly on top of.
It is available in up to
SEVENTEEN different colours
(depending on the style chosen), so each and every floor we supply is absolutely unique to its new owner, reflecting each and every personality that puts it down.
Each 40cm x 40cm self-draining, non-slip, ventilated tile (Ribtrax and Smoothtrax only; Diamondtrax is solid-top checkerplate design) is manufactured in Europe using Total Petroleum, and can take consistent weight of over
TWENTY TONNES
, so you can be absolutely certain that it can take whatever you have to throw at it, and if it can't? Well, there's a
FIFTEEN YEAR WARRANTY
on each tile.
Not only is
Swisstrax Flooring
stylish and hard-wearing, but it requires no specialist tools to install it. You can literally do it yourself in a matter of minutes (or hours, depending on the floor size), and how much joy could you get from standing proudly on the floor that you laid yourself?
So, what can do you with it? Here are some great ideas and uses for
Swisstrax Modular Flooring
.
Inspirational Man Caves
What better way to put your personality into your own private sanctuary than creating a light and bright space that's supplemented by incredibly stylish flooring? Use the tiles to create marked contrasting spaces where your sofa, TV Unit, Study Desk, or even your own bar can sit on?
Each model of
Swisstrax Modular Flooring
is completely compatible with another, so consider placing a classic Vinyltrax down, mixing and matching the distinctive styles to create a fantastic and unique space to get away from the troubles of the world into.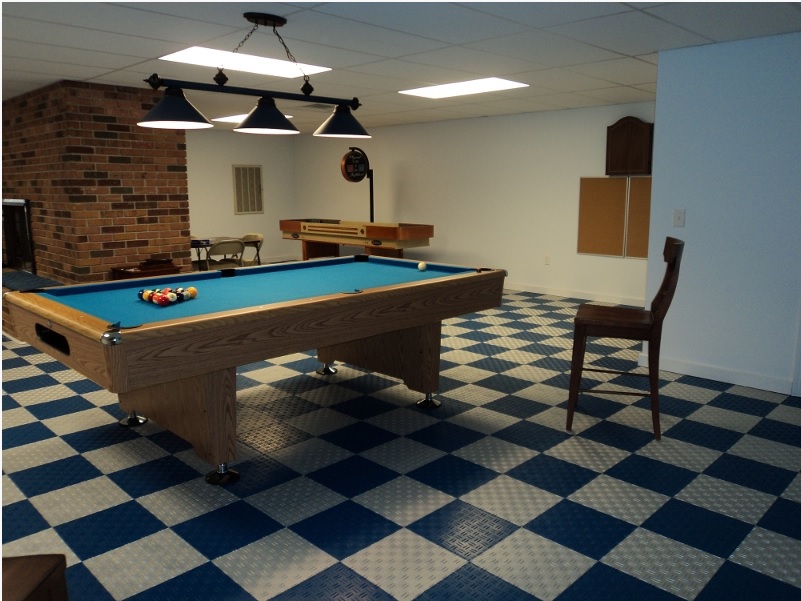 Home and Professional Gyms
Swisstrax Flooring is very robust and has phenomenal load-bearing capabilities, so if you're looking to create a home gym or are looking to kit out your professional gym with a functional and relatively low cost flooring, then consider Swisstrax for it. Create walkways and marked zones for different activities. Why not use a
Tropical Orange
for where you go to work those abs, with a
Citrus Yellow
area for when you're focusing on your glutes, and even a bit of
Island Blue
for when it's leg day?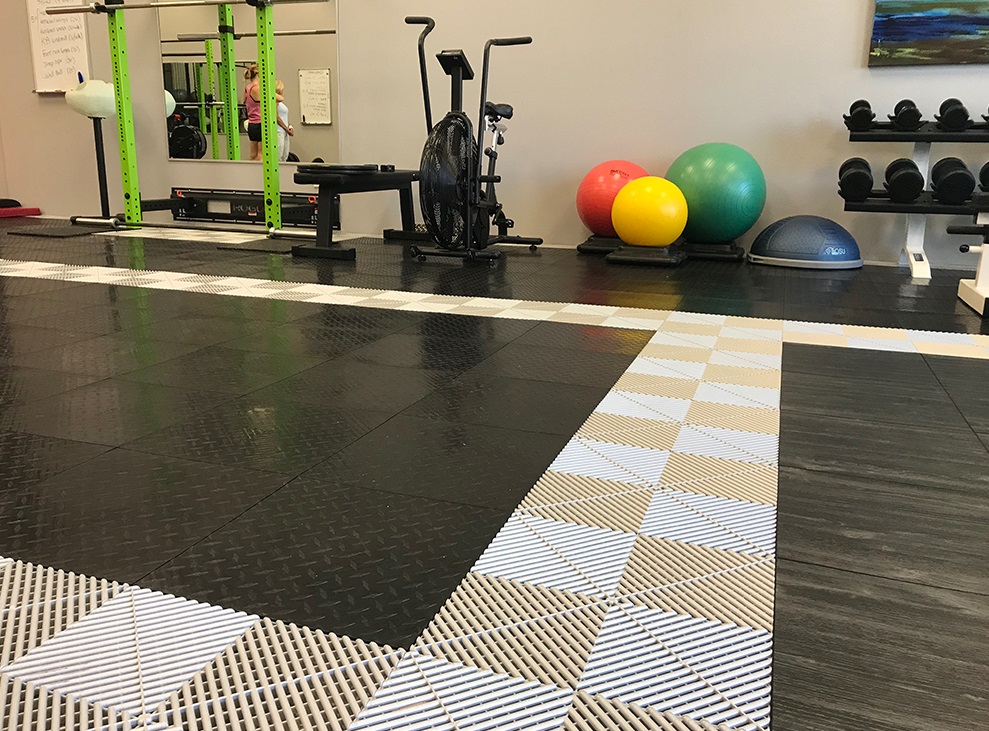 Event Flooring
Swisstrax Modular Flooring
is a fully movable flooring solution, so it's perfect for event hiring professionals who want to give their clients a spectacularly different option when it comes to the floor. Forget dull and personality-free wooden panels, provide your guests with the option of a cool black and silver, or black and white chequered floor to really give them something to remember, or for that extra touch of undisputed class, go for the luxurious, premium Vinyltrax and really make that important impression.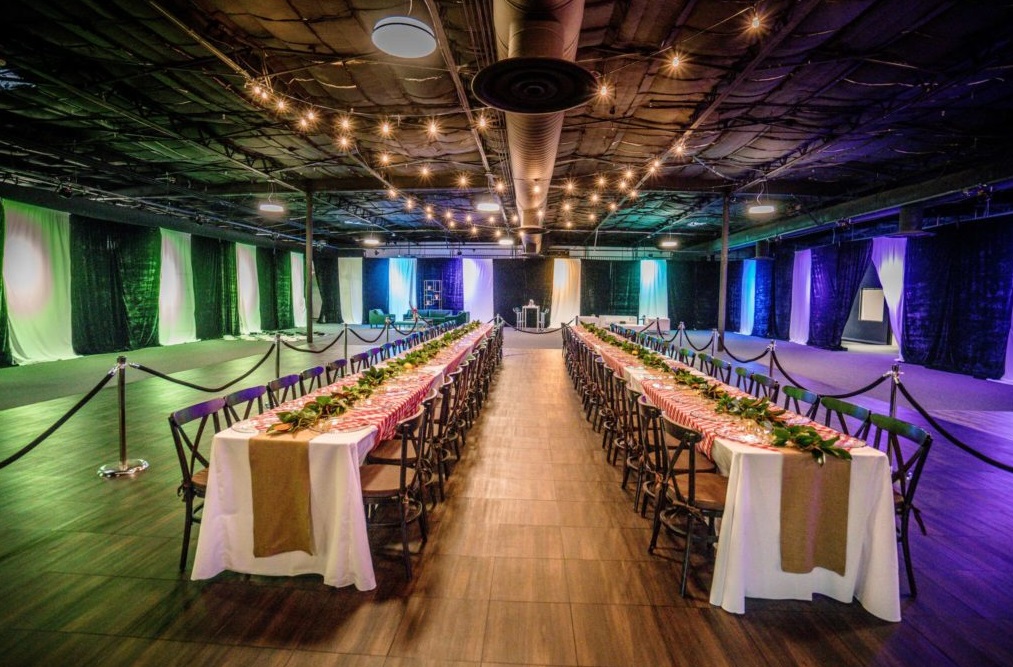 Hot Tub and Pool Flooring
Because it's completely
non-slip, self-draining, and resistant to all manner of fluids
, Swisstrax Modular Flooring is the perfect accompaniment to your Hot Tub or swimming pool area. The 18mm thick tiles effectively raise your feet from any wet surfaces after you get out of the water, protecting you and your loved ones from any slippery accidents. It doesn't need to be a full floor that you put down; simply create a three-tile border all around the Hot Tub or Pool to create a 1.2m wide safe zone.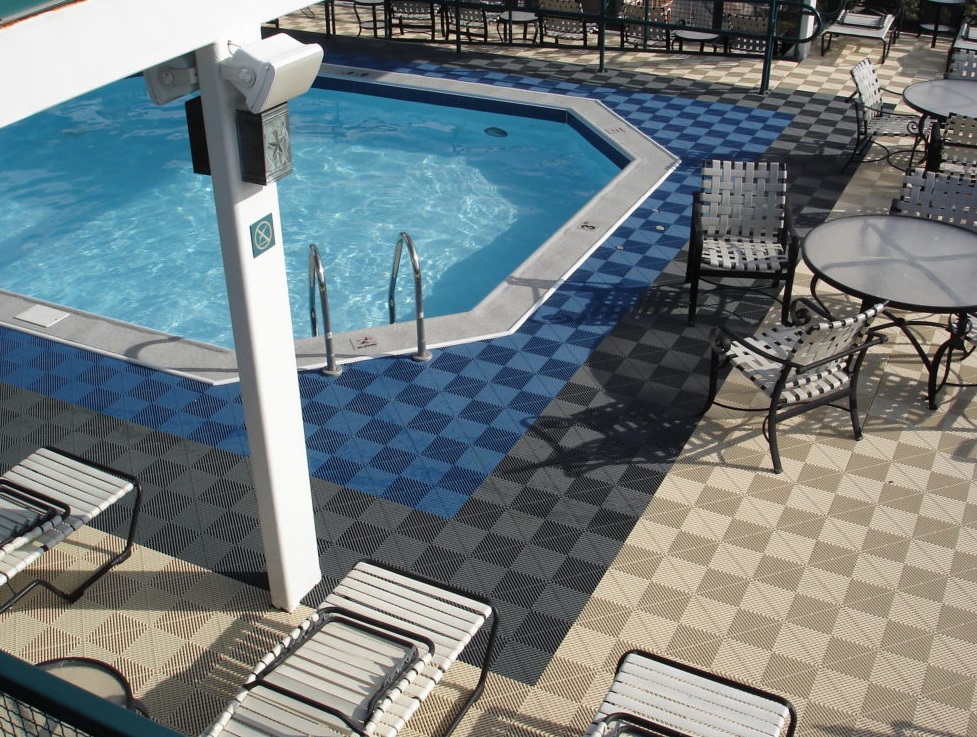 Home Garage Flooring
Over the past three years, our colleagues at Gala Performance have been supplying flooring to home garage enthusiasts across Europe. There are YouTube channels dedicated only to the brand and how to get the best out of it, so we recommend you find those videos and see what others have achieved with the floor.
Swisstrax Flooring
has grown a reputation for providing a spectacular area to put your vehicle onto, but it's so much more than that. It's a way to bring your personality in any space you choose, and a home garage is the perfect spot to start.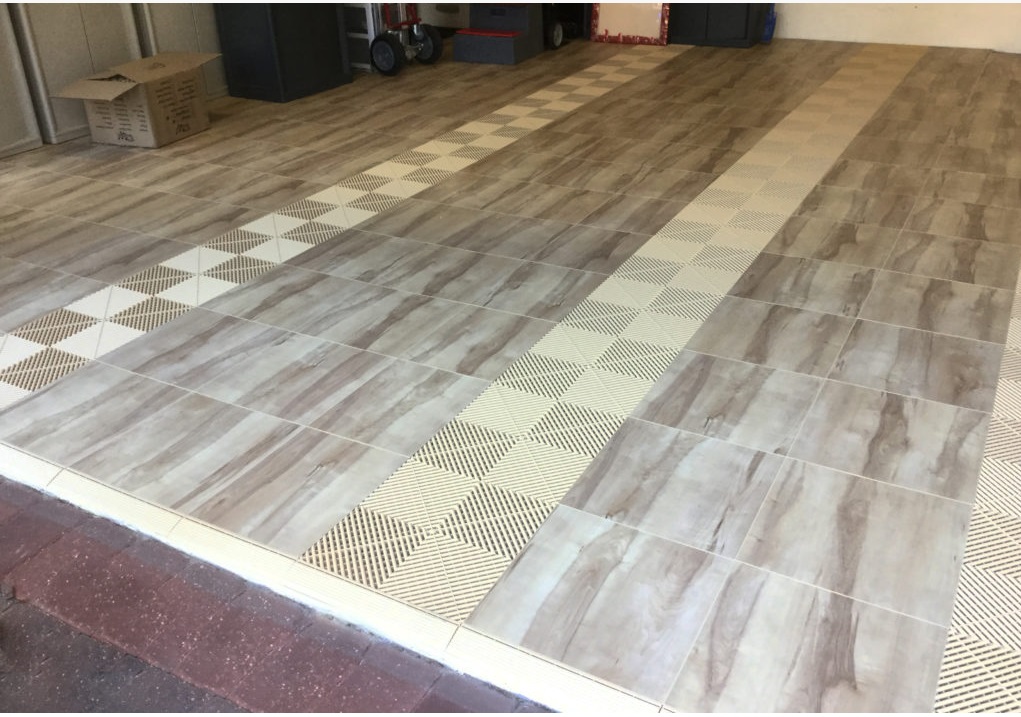 Expo and Trade Show Flooring
Attend any large trade exhibition in any city at any time and you are guaranteed to see Swisstrax flooring at least once.
The vast array of colours lends itself perfectly to creating an inviting and unique space of any size that will match your brand guidelines, and give your exhibition stand's visitors something to remember.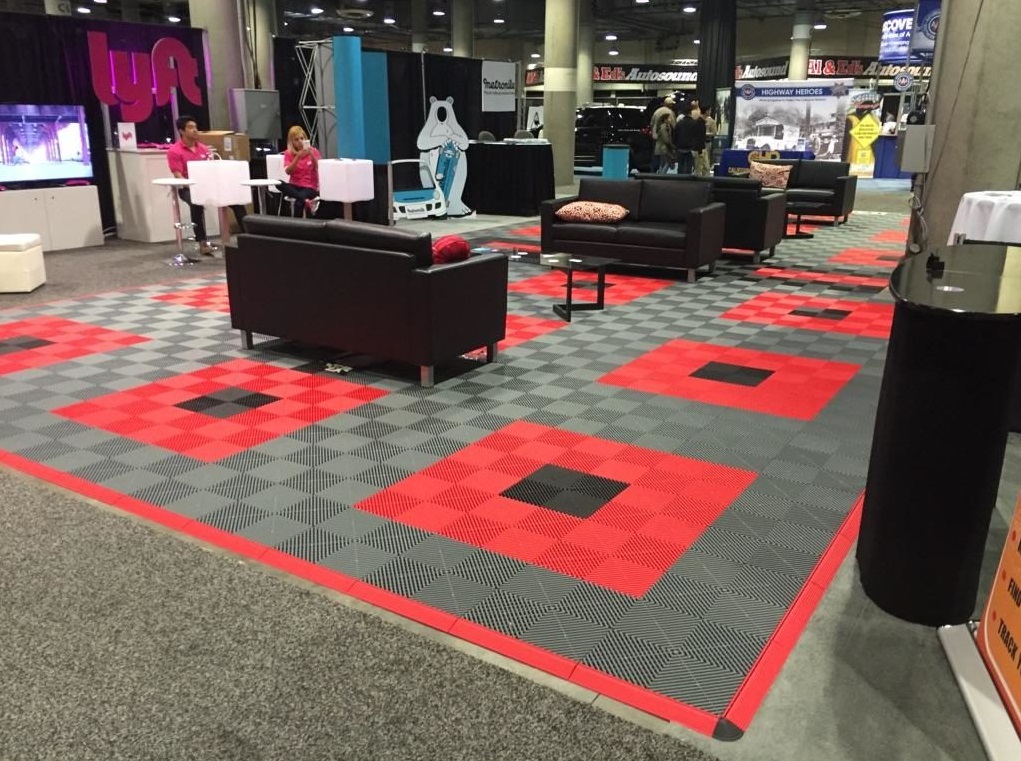 Workshop Flooring
The
hard-wearing and heavy duty
nature of Swisstrax Flooring lends itself perfectly to workshop units of pretty much any kind. It is particularly popular and effective within those of valeting and detailing professionals, where a clean floor is important to the intricate, fine processes of the work at hand. The self-draining Ribtrax or Smoothtrax are perfectly placed to provide a safe and functional wet area for washing down vehicles of any size.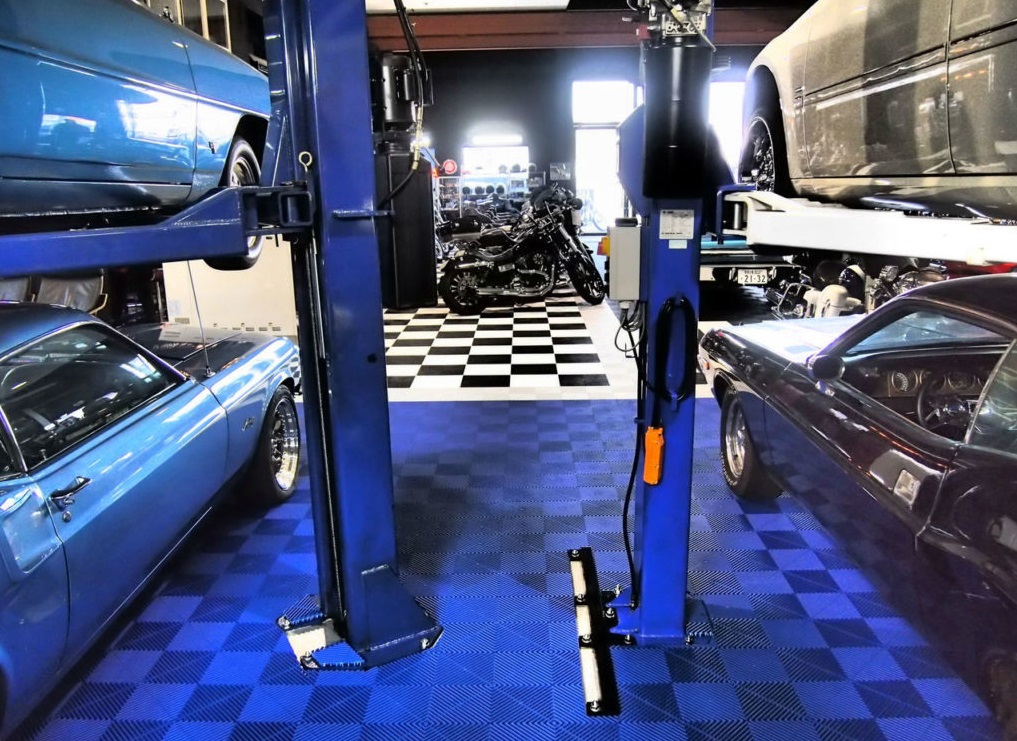 Office Flooring
Swisstrax Flooring of any kind is a fantastic alternative to carpet and lino in your office space, and is much harder wearing on heavy traffic spaces such as the walkways through your desks. Use light and bright colour schemes to brighten the moods of your employees, with designated walkways contrasted against the spaces for desks and other equipment, and you have a ready-made focal point to impress business visitors.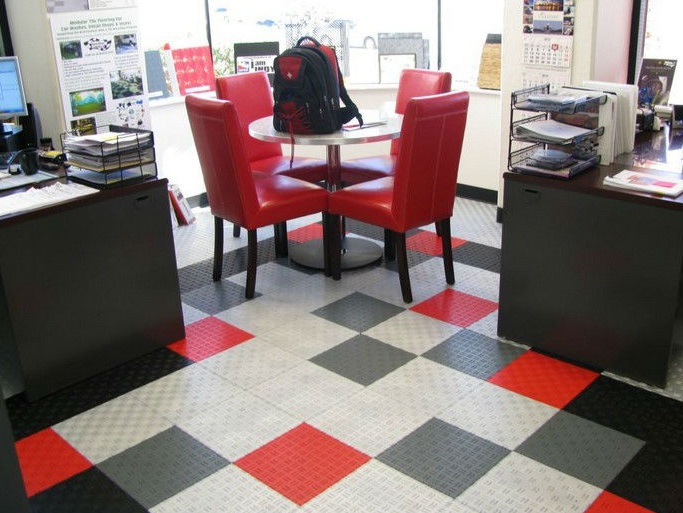 Swisstrax Modular Flooring is now 100% Available from Gala Tent and any of its subsidiary brands, so if you've seen any inspiration here for your home, office, workshop, garage or commercial business then give the team a call on 01709 803457 or drop an email to sales@galatent.co.uk now and simply let us know the size of the space you want to cover and we'll do the rest, including offering some nice design ideas and sharing work we've done for previous satisfied clients.