It gives us tremendous pleasure to introduce to you the brand new pop-up gazebo to join the Gala Shade family, and what is arguably the strongest domestic garden pop-up gazebo in the UK, the Gala Shade Pro DX.
For the past twenty years,
Gala Tent
has carved out a reputation for providing commercial quality event tents at great value prices, and we have maintained our position as market leaders for two decades. However, feedback we often receive is that for home and garden applications, our commercial quality gazebos aren't quite as affordable as everybody would like them to be, and let us tell you that
Gala Tent
is a company that will
ALWAYS
listen to the feedback we receive, so you spoke and we listened.
For 2020, we're launching what we're confident is the cheapest garden gazebo for the level of patented high quality built into each and every tent. Let's take a look at what makes us so confident that once you invest in a
Gala Shade Pro DX
you'll never need another cheap pop-up gazebo ever again.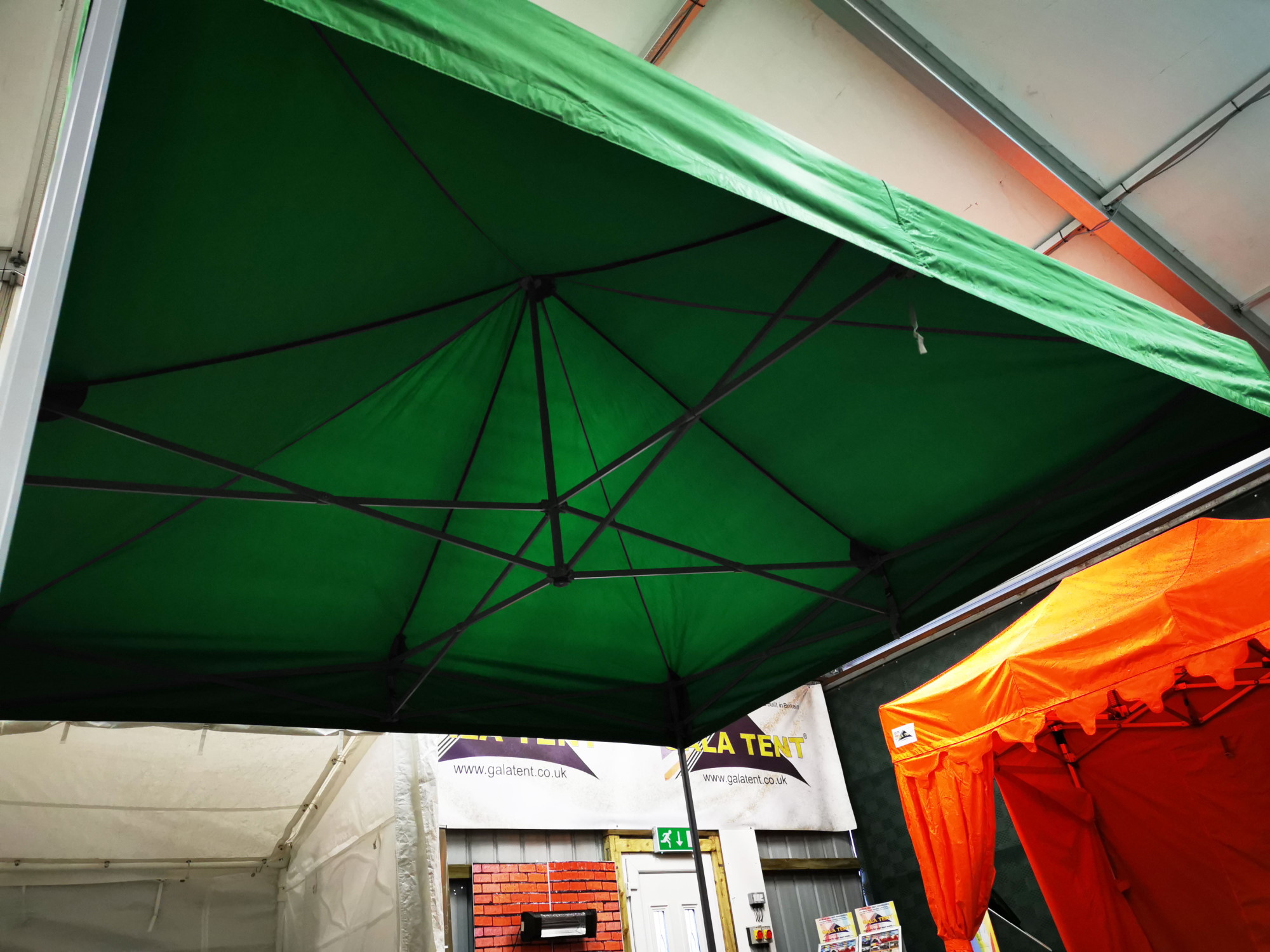 The Perfect Domestic Pop-Up Gazebo Canopy
Forget the cheap garden canopy gazebos that you can pick up for a hundred pounds from a certain supermarket's special buy section, only to get a single use out of it before the plastic poles go missing, or a surprise gust of wind takes it into the next door neighbours' garden and you're left waiting for the next time they're available so you can host your friends and family with confidence again. The Gala Shade Pro DX uses all of the technology and some of the materials as our commercial gazebos, but is a more lightweight pop-up that can be easily erected by one person in a matter of seconds, and because it uses the same covers as our higher spec models, you can have it in a choice of TWELVE different colours, plus optional matching gazebo sidewalls, or if you'd prefer something a little bit more eye-catching and unusual, you can mix and match the canopy and optional sidewalls. If you're a football fan and you're hosting a European Championship party where you and your friends can cheer England on in the comfort of your own home, why not go for a rather patriotic white canopy with red sidewalls?
The Pro DX includes the following features:
32mm Octagonal Steel Legs - It is the first pop-up garden gazebo to feature this revolutionary leg-style, and the 0.8mm gauge steel is as thick as many of our competitors mid-range gazebos' materials.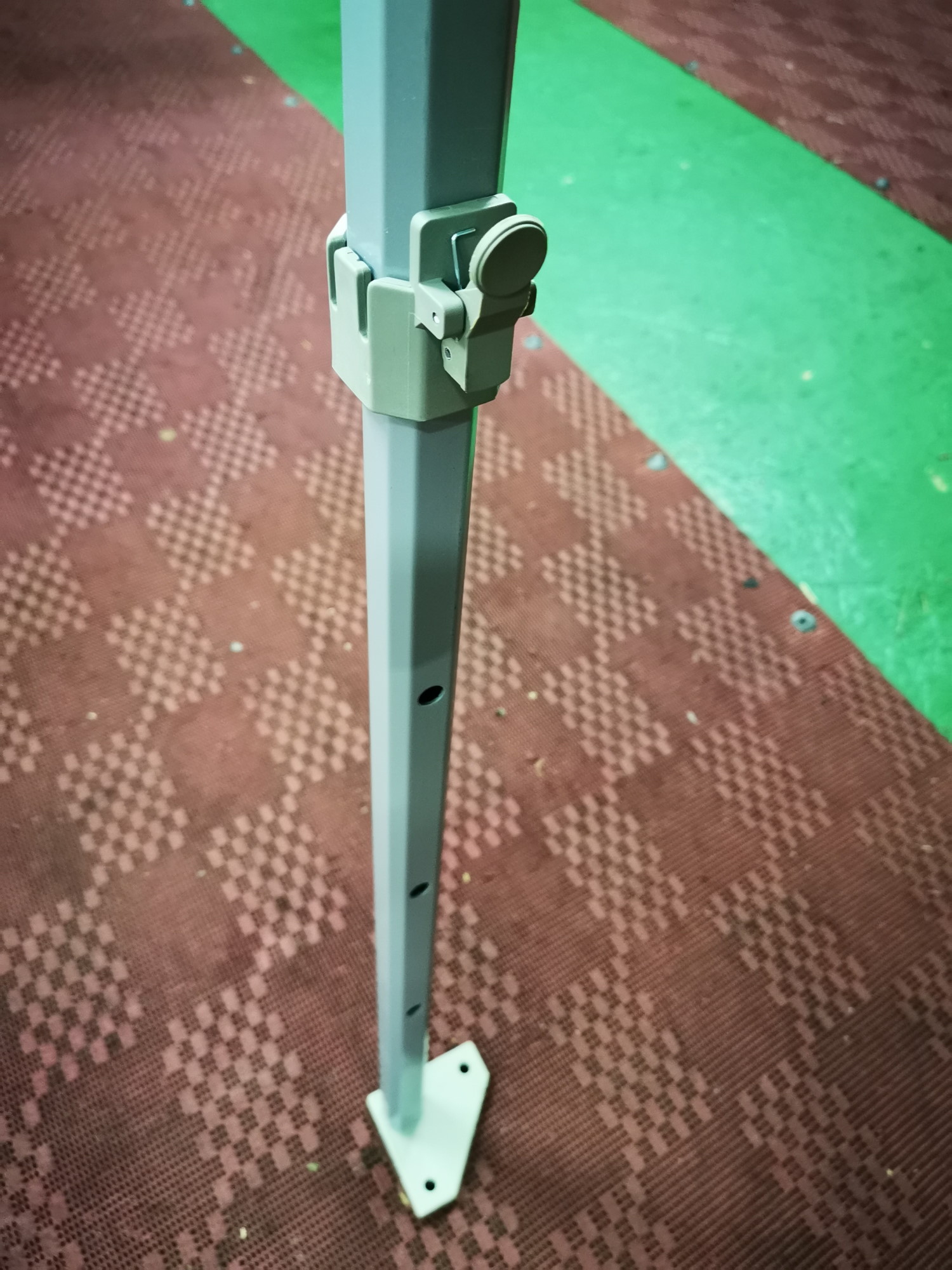 Hammer-Tested Nylon Joints - No other recreational pop-up gazebo can offer the same kind of strength in the joints and fixings. At Gala Tent, our reputation has been built on providing strength and value in our structures, and even in our most basic models we actively choose to use the highest quality and strong materials. After all, offering a low quality product at any cost can be more damaging for our reputation as it can for your neighbours' greenhouse when the wind picks up and your cheap gazebo smashes their windows! So, we use the highest quality materials and sell our amazing products with huge confidence.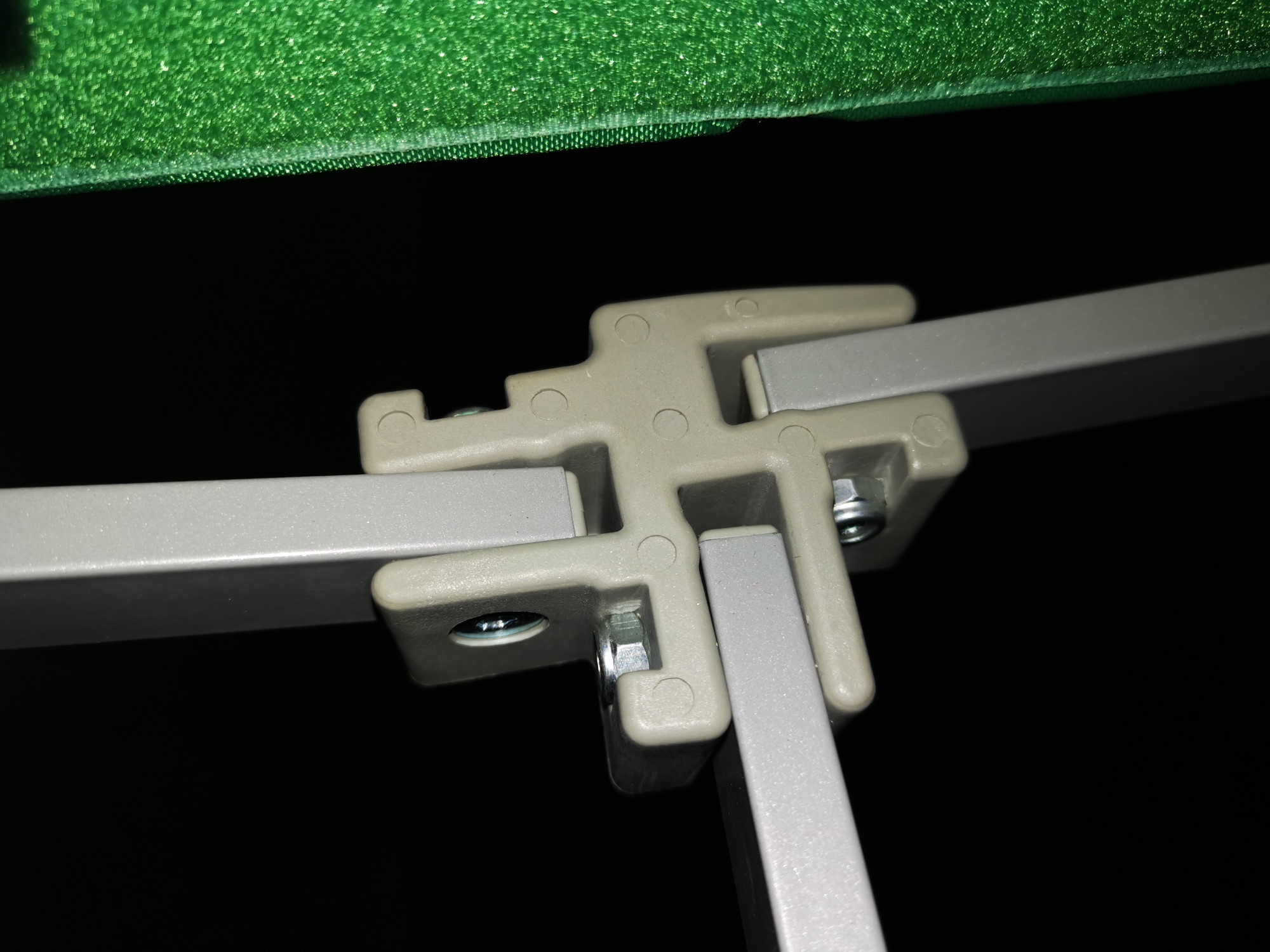 Quick-Release Clips - Using spring-loaded clips instead of the standard ring-pull spindle pins will enable even the lightest of fingers to dismantle the tent with next to no effort at all.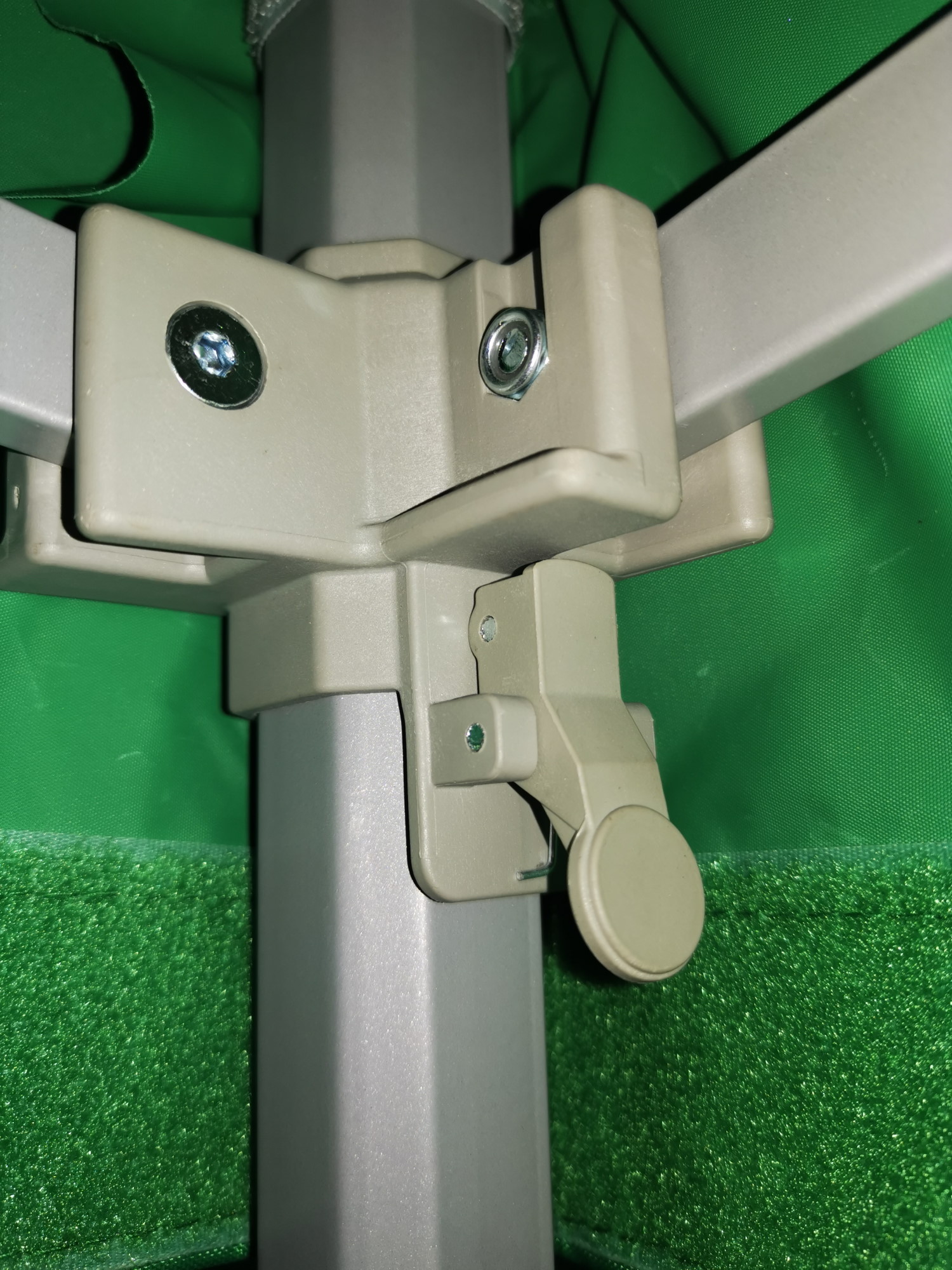 600d PVC-Coated Polyester Covers in Twelve Colours - The covers are often an area that a retailer may compromise on quality in order to bring down the price and sell in high quantities, reducing the thickness of the materials by as much as 50%. Gala Tent will never scrimp on this kind of quality, and we offer the exact same market-leading quality on the domestic gazebo covers as we do on the top-of-the-range commercial pop-ups, which means that you'd be receiving very highly water resistant (with a hydrostatic head of an unrivalled 6000) tent. This alone makes the Pro DX an unbeatable new tent to the market.
Lightweight but Sturdy Frame - At just over 28kg, the Pro DX is light enough that you can quickly erect it alone, at the same time as you light the barbecue or put out the tables for your guests to enjoy socialising around before they arrive. It can be erected in less than five minutes and doesn't need a team of people to get up.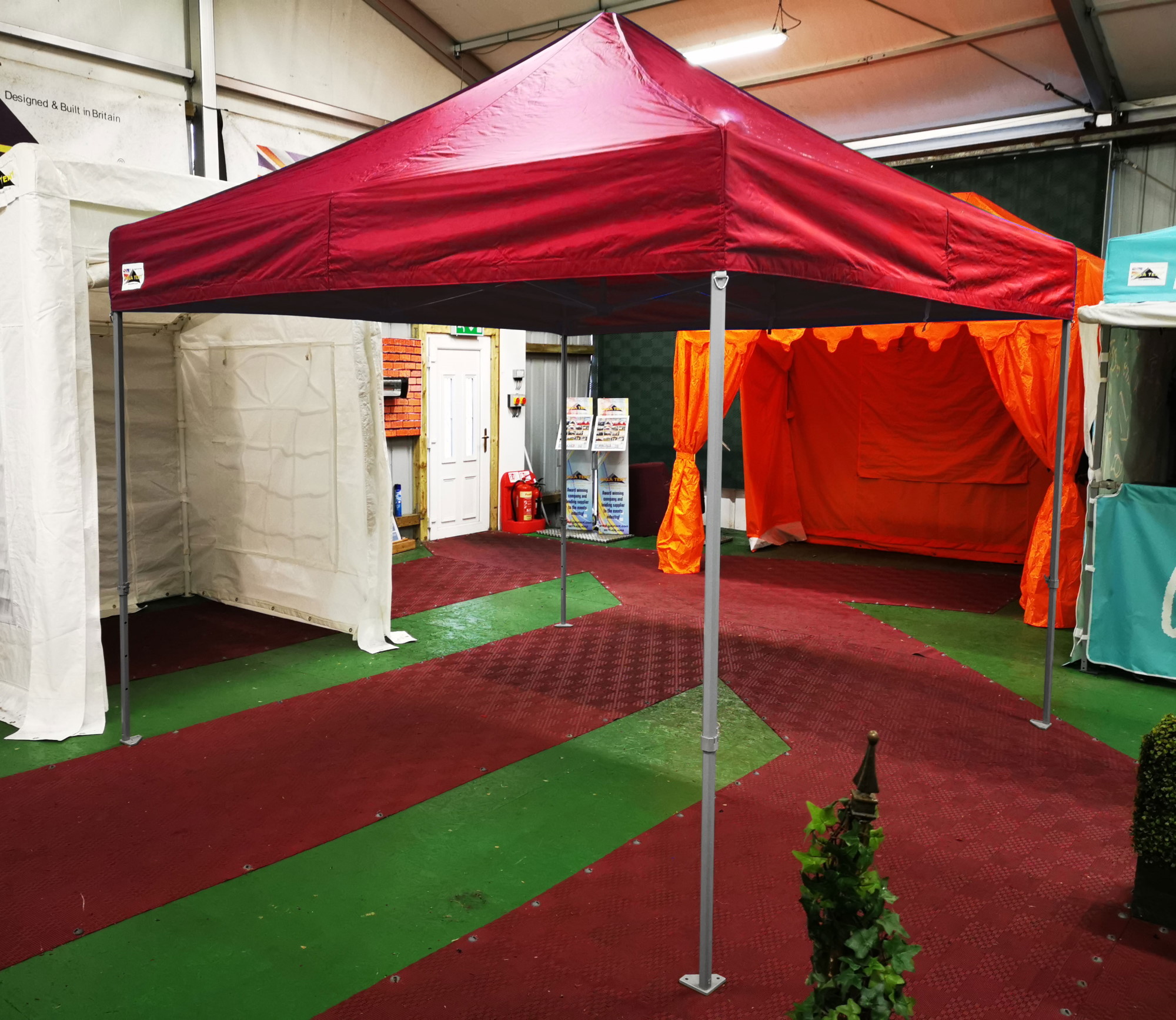 Compatibility with existing Gala Tent gazebo weights and anchors - You will not need to source ways and means of securing your garden gazebo anywhere else, as the Pro DX is 100% compatible with our leg weights and tie-down storm kits, so whether you're on hard or soft standing ground, you can get everything you need to secure it right here at Gala Tent.
Optional Storage Bags - The tent is absolutely strong and long-lasting enough to store in your garage or shed until you need it, but if you'd prefer a little extra protection, you can take an optional wheeled storage bag, to ensure it lasts as long as you want it to.
So when you're looking to improve your garden space ahead of the Spring and Summer months, try to avoid purchasing the first, cheapest canopy tent that you see on the shelves of your local supermarket. It may appear as if it's a wise but affordable disposable investment, but why kick your cash into the grass when you can invest properly, first time, in the UK's Strongest Domestic Pop-Up Gazebo?
Pre-orders have opened up for the Pro DX now, and as it's easily our lowest priced pop-up gazebo they are set to become very popular, so we highly recommend you
place your pre-order here
and secure your tent from the first batch of stock.