TROOPS IN MOTORSPORT
HELP FOR HEROES
WHEELS FOR CHARITY
Gala Tent providing injured troops with the chance to get involved in motor sport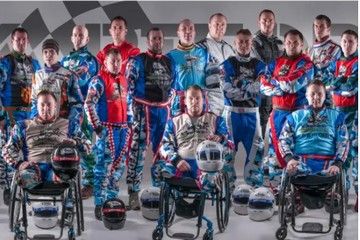 Gala Tent, one of the UK's leading manufacturers of marquees and gazebos, has donated a marquee to KartForce, a charity dedicated to providing injured troops with the chance to get involved in karting.
The marquee manufacturer donated a 6x10 metre marquee, as part of giving back to the community, which Kartforce will use at events throughout the year. KartForce currently has 29 regular kart drivers, who are taking part in major events such as the Le Mans 24 hour, the Isle of Man 24 hour and the British 24 hour.
Dave Player, ex-serviceman and founder of KartForce, said: "We are delighted with Gala Tent's donation of this high quality marquee – we really appreciate their generosity and support. It will make a big difference, as our karters take part in many long races in the wet and cold, and need somewhere to get warm, dry, and recover! Thank you Gala Tent, what a fantastic way to start the New Year!
Jason Mace, Managing Director of Gala Tent, said: "KartForce is an amazing organisation and after hearing of their need for a marquee, we were proud to be able to offer them one of our marquees for their events. We wish them well as they compete in their national and international events and continue in their excellent work supporting ex-service personnel.
The high quality watertight Gala Tent marquee boasts Georgian style windows offering shelter to drivers, crew and spectators, plus it has ample work space for last minute mechanical work on the karts.
Gala Tent marquees are renowned for being easy to assemble and to make things even simpler, the company provides a YouTube video for guidance, showing how it takes approximately seven minutes to assemble!
Folding away into a compact case, Gala Tent's marquees are easily portable – a must for Kartforce as this year's race calendar requires the team to travel around the UK, and even to Majorca!
KartForce, founded in 2010 by ex-Army Dave Player, has a growing number of members who are given the opportunity to get involved in karting, whether that be as a leisure activity with friends and family, a group event with other injured soldiers, or as a competitive sport racing against non-injured teams. The benefits are that it enables social interaction between ex-service personnel and helps with the rehabilitation process
A retired couple have spent the past six years making and selling cakes and chutneys to their community to raise funds for Help for Heroes.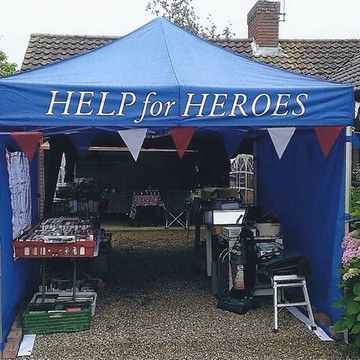 Gala Tent Ltd has played a significant part in the couples' fundraising efforts by donating a Gala Tent gazebo to house the stall, helping to keep it weatherproof throughout their fundraising events.
The event originated in Mr Brown's back garden in 2009, after his daughter Sally returned from Canada after serving more than 20 years in the army.
Sally joined the army aged 17, and has toured Iraq and Afghanistan during the past decade. During this time she has witnessed many friends endure life changing injuries and some lose their lives. David and Pat were moved by the stories they heard upon her return, and decided to raise funds to support wounded military personnel.
After a staggering £325 was raised on their first day of trade, neighbours requested that Mr Brown made the fundraising day a regular event as opposed to only once a year. This lead to a monthly stall at Rainbow in Beccles and then Exchange Square. David and Pat Brown from Burgh St Peter, Norfolk have raised an amazing £40,037 for Help for Heroes in total, and £11,500 last year alone. The annual Armed Forces Day celebration at the Browns' home has since grown year upon year and now includes a tea tent, raffle and a jumble sale.
Pat spends a week before each events baking everything ready for the public. She bakes everything from sticky gingerbread to lemon drizzle cake and Bakewell tarts. The fundraiser has been a great way to bring the village together as well as raising funds for Help for Heroes.
Mr Brown, 72 said: "We are so proud to have raised all that money, but we couldn't have done it without all the fabulous support we get. The gazebo is fantastic and has never let me down. The quality is unbeatable and the service from Gala Tent has proved invaluable in the long-running success of the event."
The couple plan to continue this fundraising event around 10 times a year and further commented "We will keep doing it as long as we are fit and able."
Gala Tent Sponsor Wheels for Charity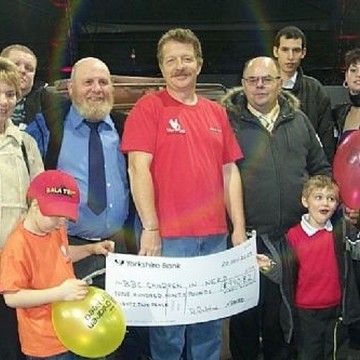 Firstly, I would like to wish everyone at Gala Tent a Merry Christmas and Happy New Year, from all of us at Wheels for Charity. Secondly, despite the BBC policy of no advertising as you can see I did manage to get 1 of your t-shirts with your logo and one of ours on BBC Look East web site (Photo attached is the one used on BBC site)
Over the last two months, Wheels for Charity has built up a very good relationship with The(RAF)Marham Group - RAFAT Trust. I met at the weekend with Mr Brian V. Wallis, B.A., MACW, Dip.Voc.Ssc(psy.) RAF (retd.)(formerly ADC. HM.The Queens Flight, 32 Sqn.) and spoke with him about your kind sponsorship to us and how easy the Marquee is to put up. The Marham Group and Wheels for Charity will be working together for the Forces Childrens Trust in 2010.
We have two shows in August that we are attending and one in September confirmed, we are also awaiting conformation on Truckfest in May at Peterborough Show Ground. Furthermore, Brian is arranging some shows we shall attend as Wheels for Charity with the Marham Group, 2010 is looking good and your Marquee is going to be seen in at quite a few good shows. Our Professional Photographer will be taking Photos for you at each event.
Once again Merry Christmas and Happy New Year from all of us at Wheels for Charity to all at Gala Tent
Best wishes
Rupert