We're back with our
Featured Customer
spotlight, and as it's feeling particularly chilly out there, we're talking with purveyors of the finest hand-rolled ice cream,
Funky Cool Bananas
.
Yes, we agree, it's NEVER too cold for ice cream!
We chatted to
Genine
from Funky Cool Bananas about how they started out, what they're up to, and how
Gala Tent
have helped them to present their brand to the wider world.
Funky Cool Bananas
An
artisan manufacturer
of fresh hand-rolled ice cream, just about any flavour you can think of, in pretty much any location you want them to make it,
Funky Cool Bananas was established in 2018
by Genine Rozario and Kevin Wiltshire, and is based out of
Bristol
. Their products are available as standard, or as vegan/dairyfree options, so all of your guests' dietary requirements can be catered for easily.
How do they make their ice cream?
Genine tells us.
"We work on cold-pans, and we freeze liquid ice cream and add a variety of fresh fruit and nuts. We then roll the ice cream into neat rolls and serve it with whichever topping takes your fancy."
Sounds simple, but we wouldn't know where to start, so it's a good job the experts at Funky Cool Bananas are here! Some of the delicious flavours you can select are
Toffee Popcorn
,
Burnt Banana
, and the extremely tasty sounding
Marshmallow, Peanut Butter and Chocolate
, but as they themselves say, if you can think of it, it can be turned into ice cream!
And how about their trading tent? Genine told us how they came about
Gala Tent
in the early stages of getting the fledgling business off the ground.
"We started our business last year. We started from scratch and needed our set-up to be suitable for all weather conditions. The first gazebo we bought was a standard garden gazebo. At 3m × 3m, it was big enough for all our equipment. We used this gazebo for around four months, probably more than four times a week."

So, with Genine and Kev working hard to launch their brand and inflicting heavy use onto their garden gazebo, how did it hold up?
"We found that the inner straps started unstitching and slowly the whole thing started to come apart literally at the seams. Being our first year of business our budget was small so we bought another similar garden gazebo at the beginning of the year. I did see advertisements for more professional gazebos such as Gala but I didn't think our budget would allow it. After four weeks of using our standard new (Argos) gazebo the wear and tear started to show. We were doing a small event in the Black Mountains and it rained very hard, our new gazebo leaked quite badly."
It's a familiar story, and one we see very often in our business, but things were about to change for Genine, Kev and Funky Cool Bananas.
"I saw an advert on the internet for Gala Tent, and filled out the online form which requested size, colour etc, and waited for a quote. I showed my business partner and we were very impressed. However, at this point we were more than a little dubious. I then phoned a contact number and spoke to a really helpful chap. He got me to send our logo and explain exactly how we would like are gazebo to look. He then gave us a very reasonable price and an expected delivery date. We decided to go for it and were very excited at the prospect of our logo and colours on our own tailor-made gazebo. True to his word our gazebo arrived less than a week later."

A fantastic end to a story fraught with cheap gazebos and terrible weather, and we're so grateful that Genine and the business were in a position to choose Gala Tent to help them take the business to the next level. Funky Cool Bananas uses a
customised 3m x 3m Yellow Pro 50 pop-up gazebo
, which is the top-of-the-range model that comes complete with a
five year framework warranty
, and really is built to withstand several weekly outings, and even in the event of accidental damage to the structure,
Gala Tent offers next working day delivery on all spare parts
, which means that until they choose to increase the size later down the line, this can easily be the
last gazebo that Genine, Kev and Funky Cool Bananas ever need
. And how do they feel about the tent now they've had it for a few months?
"We really love our new gazebo, and it really pulls our design and logo in. Our customers also love it."
Thank you to Genine for giving us her time and answering our questions. It was a pleasure to do work with and for her business, and we wish them all the very, very best for the future.
You can find more information on
Funky Cool Bananas
at the following places: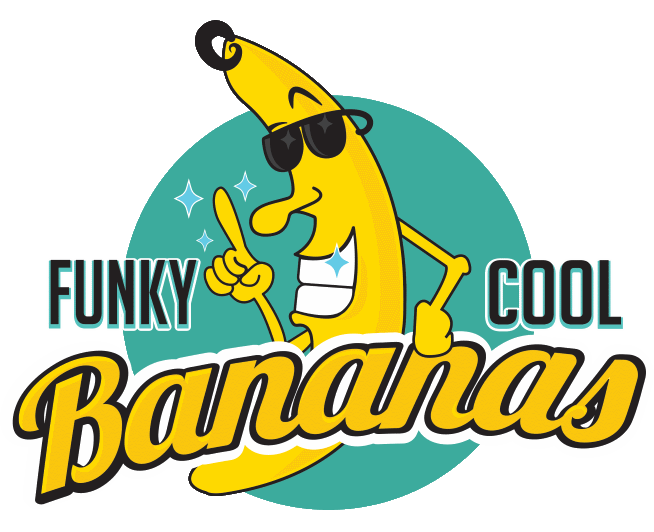 To purchase or find more information on the
Gala Shade Pro 50, click here
.
To find inspiration on having your own branded gazebo printed,
go and take a look here
.
And to download a gazebo brochure so you can take Gala Tent away with you,
you can click here
.