Welcome back to our
Featured Customer
blog series, which focuses on our customers and what they do with their
Gala Tent
products. We supply tents for a vast array of purposes, and to an equally large range of industries, and we think it will help you to fully appreciate the difference our products can make to your operation, if you hear from other people who do similar things to you.
The second Featured Customer spotlight belongs to
Julia Tanner
, an artist who lives on the Isle of Wight, so let's crack on and see how she's doing.
Julia Tanner Art
Julia Tanner
is an artist. She paints floral landscapes and slightly abstract sporting scenes. Her husband produces fine art prints from her work, and when they attend shows they sell both original paintings, prints, cards, and glass coasters featuring Julia's lovely work. Julia and her husband moved to the Isle of Wight in 2017, and the island has proven incredibly inspirational for her art, which has been the basis of her business for the past seven years.

Julia has a very classy looking
3m x 3m Gala Shade Pro 40 Gazebo
in white, with matching sidewalls. The
Pro 40 is a lightweight yet sturdy mid-range structure
, and is one of the most popular structures that Gala Tent supplies. Julia also has ground bars, which when you have lots of precious works presented from within the tent, can be absolutely vital to ensure the gazebo sidewalls do not flap around in windy conditions, and help the structure to remain rigid. But what made Julia choose a
Gala Tent gazebo
?
"We decided to buy a gazebo so that we could attend art and craft shows that don't have a dedicated art and craft marquee, and also to keep the costs down – open space is often cheaper to book than marquee space."
"Several traders recommended Gala Tent, and we have discovered that you get what you pay for in life, and having seen many cheap gazebos devastated on windy days we decided that quality was key."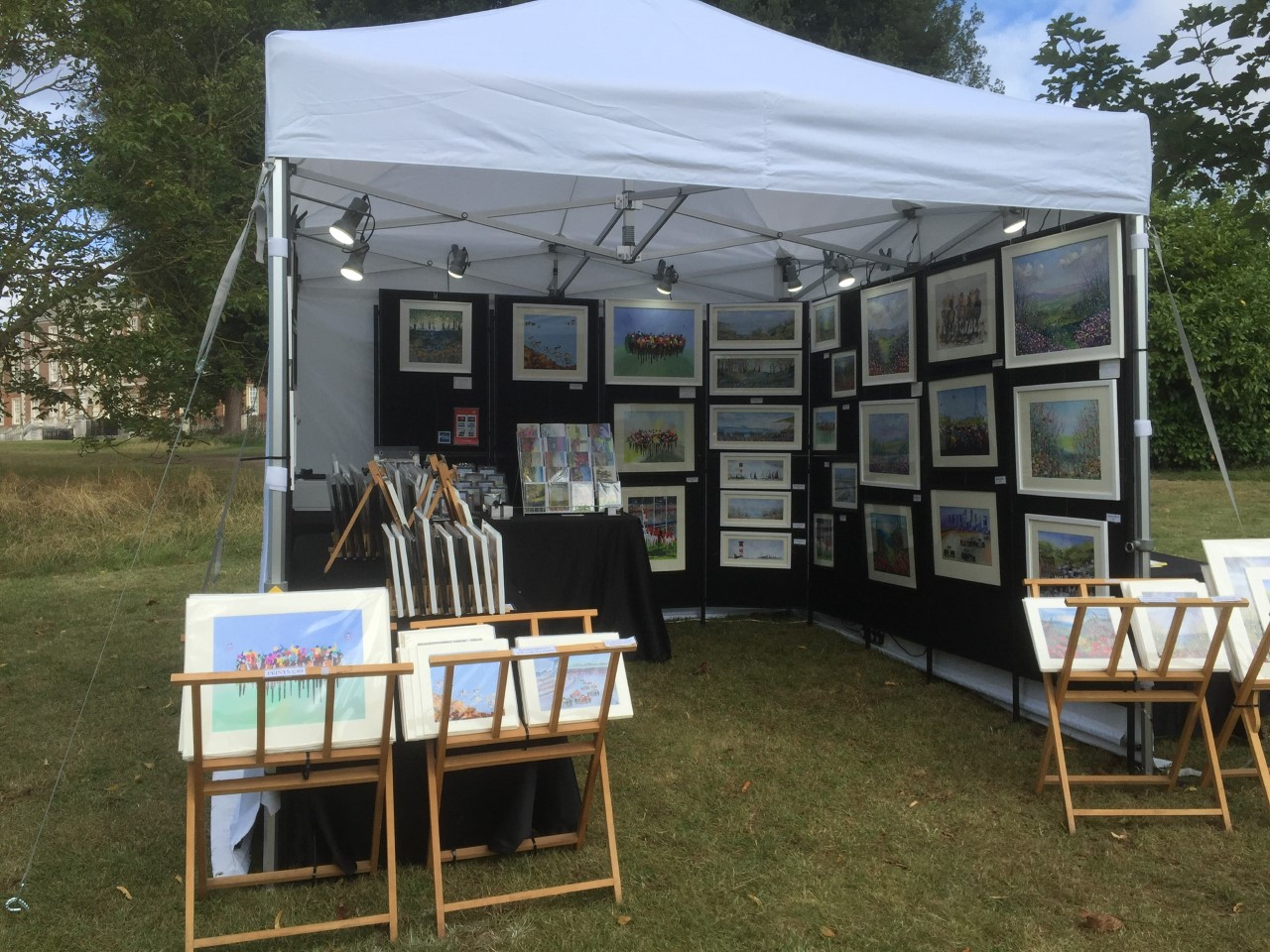 You can see from the images of Julia's fantastic art hanging inside the gazebo that she has created a beautiful presentation area with a series of spotlights, which highlight her hard work in all its glory, with the white covers allowing for a neutral light transmission and ensuring her art is seen as it should be.
Julia continued to say,
"I have been so impressed with the ease of erection and how well thought-out the storage bags are – there's a place for everything. Your website was also a deciding factor in choosing Gala Tent. Some of the companies expect you to ring them up and their websites are hard to navigate. You haven't just provided a gazebo, you've provided a whole package!"
Thank you ever so much to Julia Tanner, a super-talented artist living on the Isle of Wight, who uses her
Gala Shade Pro 40
as a mobile art gallery for the many shows she and her husband attend. To find more information on Julia and her art, and to perhaps splash out on a Christmas gift for a loved one, please visit the following places:

You can find the Gala Shade Pro 40 Pop-Up Gazebos here, or if you require further help and advice from our team of experts, give us a call on 01709 242454 and we'll be happy to help.
You can download your Gazebo brochure and take Gala Tent away with you by clicking this link.