We're continuing our
Featured Customer
series of blogs, where we chat to some of our clients about their businesses and how their
Gala Tent
structures fit into the operation. We supply function tents to almost any industry you can think of, so it makes perfect sense to speak with people in those industries and get an insight into how a
Gala Tent marquee or gazebo
will boost your business, and hopefully it will make your decision much easier.
Fiona Pickering
from
Storm's Style
was kind enough to give us some of her time, and we're very grateful.
Storm's Style
Storm's Style
is a delightfully unique business, which manufactures and sells
bandanas and bow ties for dogs of all sizes
. Based out of Titchfield Common in Hampshire, the business started in January 2018 as a bit of a fluke, as Fiona tells us.
She said, "
Storm is a large breed dog and trying to get nice bandanas for her was very difficult or incredibly expensive as they come from overseas. My husband bought me a sewing machine for Christmas as I wished to start a new hobby, and I thought a good way to practice was to make Storm a bandana. I then shared a picture to my personal Facebook page where I got a lot of encouragement and also friends asking if I could make their dogs one. It started to snowball as friends of friends starting asking, and I decided to see if I could make a business out of it, as there was definitely interest out there."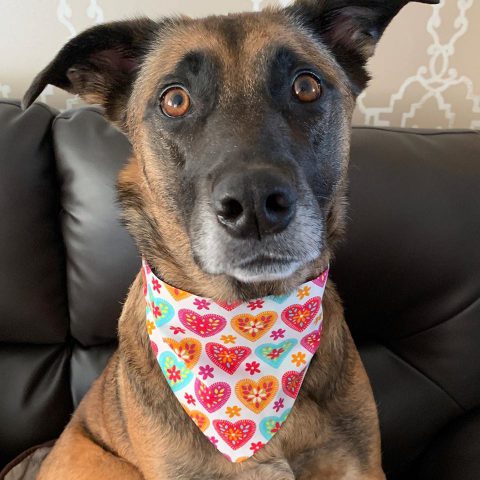 "Within my first month in business a local dog shop asked if they could stock my items, then the next month a local veterinary surgery asked if I could produce promotional bandanas, bunting and table covers for them, which meant I'd need to invest in a vinyl cutting machine. I didn't realise at the time that this was the best thing I could have done for Storm's Style. Since then, I have done work for multiple dog businesses, canine cross country companies, and wedding businesses to name but a few. I get asked to do a lot of bandanas with messages on, for example if a dog is reactive I can do a bandana telling people to keep back, or provide a nervous pet with space. People have announced they are expecting, by their pets wearing a garment with I'm going to be a big sister/brother as well as names or fun nicknames for dogs."
"I set up the business primarily to make bandanas for dogs, but there has been such a call for them for cats, guinea pigs, and even a chicken! I've diversified into making bowties and flowers to go onto collars. Storm's Style products have been sent all over the world with Canada and New Zealand being the latest. Our popular ranges are for weddings where your special friend gets to be a part of the day, whether was a Best Dog, Dog of Honour, Ring Bearer etc. The items can be fully customised so they suit the wedding theme completely."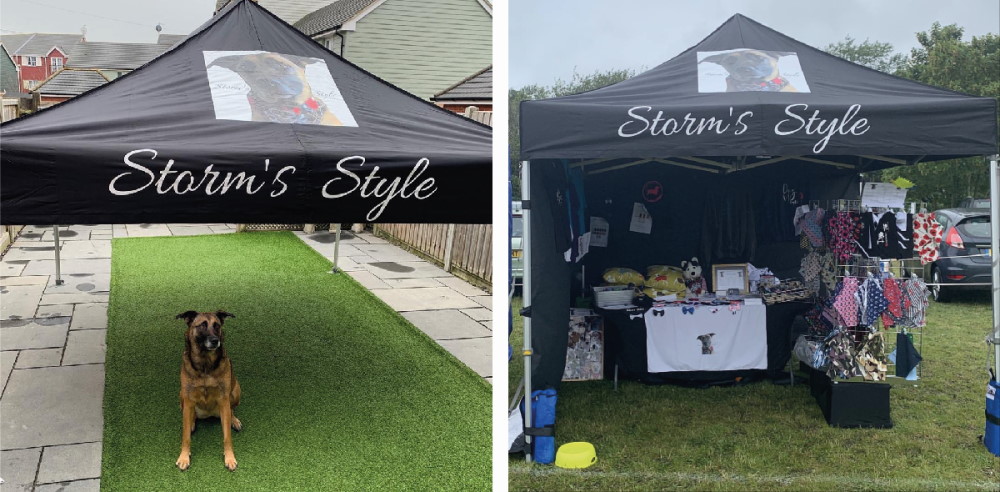 When they're out and about at shows, Fiona and Storm's Style use a
3m x 3m Gala Shade Pro 40 in black
, with a vinyl printed logo and valance text on the canopy. The simple combination of logo and valance text is the most popular printing option we supply, as it perfectly delivers on imagery and information, without going too far or expensive. What was it that made Fiona choose Gala Tent for her gazebo?
"A good friend of mine purchased one for her business, and the build quality was amazing. I also liked the option to personalise the roof, so it really helps me to stand out at events. People always look out for me and say they can spot me a mile away!"
And does she have any advice for others who might be in the market for a new pop-up gazebo?
"I would always recommend that if you are in a position to get the tent personalised with your logo etc. then do it, as it really does make you stand out against the standard gazebos out there. Customer's always comment on it."
So there you go. It was lovely to work with
Fiona and Storm
to help them to take the business on the road in a professional and eye-catching manner, and we wish them all the best in growing the brand to even bigger, and we'll be here when she needs to expand her show space.
For more information on Storm's Style and the incredibly sweet garments they supply, then simply head to the following links: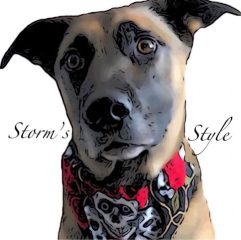 Email - stormsstyle@hotmail.com
You can find the Gala Shade Pro 40
here
, or give the team a call on 01709 242454 to discuss your requirements. You can find inspiration for your printed gazebo
here
.
To download a Gala Shade Gazebo Brochure, please click
here
and take Gala Tent with you.