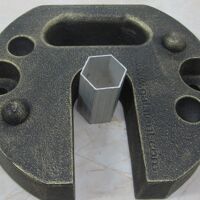 07290 - Set of 2 - 13kg Cast Iron Leg Weight Feet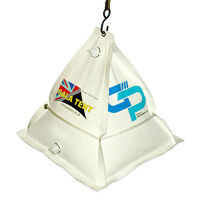 11087 - Heavy Duty 50kg Water Weight Anchor Bag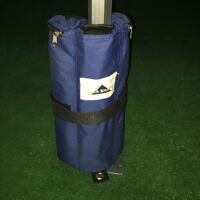 07608 - Set of 2 - Gazebo Leg Weight Bag - Pair
Gazebo leg weighted feet to suit all types of outdoor gazebos delivered next day free
Blow Moulded Gazebo Weighted Feet
Weighted gazebo feet are very easy to use and particularly useful in locations where stabilising guy ropes and pegs are not practical. They are also handy in windy or exposed positions when extra security is required. Plastic gazebo weight feet include two sections which secure tightly together around the pole using two large plastic screws which can be tightened to hold the gazebo leg securely in place. The pieces can be fitted together rapidly and effortlessly, without the need to use any tools. The feet can be filled with water or sand to provide extra weighting and steadiness. These weighted feet are an essential item for anyone using a garden gazebo, for a garden party, or market stall. This set contains 4 pieces which can be neatly stored away when not in use.
Sand Bag Gazebo Weighted Feet
New design of waterproof gazebo weighted feet, made from heavy duty polyester material, this weight has two separate components which require filling with sand, then simply wrap around the gazebo leg pole and Velcro together. To complete the design there is a heavy-duty eyelet, which enables you to secure to the ground with a heavy duty tent peg this adds even more stability to and reducers movement. Ideal for gazebos, marquees, market stalls.
Cast Iron Gazebo Weighted Feet
Cast iron gazebo heavy-duty weighted feet are countless for virtually all kinds of pop up range of gazebo structures, designed with a moulded carry handle and holes for heavy duty ground pegs, which as an option can add even further permanence in stability in windy conditions. The weights can also be stacked on top of each other to add additional steadiness. You can use the cast iron weight both on hard and soft surfaces.