On this page you will learn:
A compact gazebo is important because it means you won't struggle getting it from A to B
Sometimes, though, a smaller gazebo means a lower quality gazebo that can't do the job
Make sure you check whether the gazebo has features that make it hard-wearing
A hugely important feature for a lot of gazebo customers is the size that the gazebo will pack down to – too big and it will be impossible to transport. But, on the flip side, a small gazebo can sometimes mean a weaker, less resilient gazebo that can break easily. So, the challenge is to find a compact product that is hard-wearing.
How small can a gazebo pack up?
The smallest our gazebos can pack up is 103cm x 40cm x 40cm. These are the dimensions for the Gala Shade pro40 – compact.
How many people can fit under this size of gazebo?
The compact gazebos are 3mx3m. Approximately 12 people can fit under these gazebos whilst standing and without any other equipment in the tent.
What size do I need to make sure it fits in the boot of my car?
A 3mx3m gazebo will fit in even the smallest car boots.
When all packed up a 3x3 gazebo comes to 103cm X 40cm X 40cm so will easily fit inside small car boots. We've used a Citroen C1 which has a boot of around 100cm x 40cm x 30cm - one of the smallest car boots you can find, and it will still fit in this.
What kind of weight is suitable for public transport?
Ultimately, this depends on how strong you are and what you feel comfortable with carrying. You should also take into account the length of your journey, how much actual carrying there will be during it (for example, if getting the train you need to think about platform changes) and how much other luggage you'll be carrying.
Generally we'd only recommend carrying a smaller 3x3 gazebo on public transport.
| | |
| --- | --- |
| Gazebo dimension | Gazebo weight |
| 3mx3m | 29kg |
| 3mx4.5m | 47kg |
| 3mx6m | 60kg |
What makes it easy to transport?
The size and weight are important factors, but the type of bag your gazebo comes in is worth thinking about. A bag not only protects the gazebo but makes it much easier to carry and transport.
Types of bags available:
| | |
| --- | --- |
| Basic carry bag | Carry bag with wheels |
The basic style of carry bag is less protective than a higher quality bag and it's also harder to move around. It is much more likely to get scraped by being dragged along the floor and the lack of support for wheels can put extra strain on the bag material, meaning it'll wear more easily and could get holes in it.
A carry bag with wheels (which is a common style, and also the style we prefer) should offer better protection and support for the gazebo.
The bottom of the bag has wheels on it and can stand upright meaning the frame and canopy don't have to have much contact with the floor at all.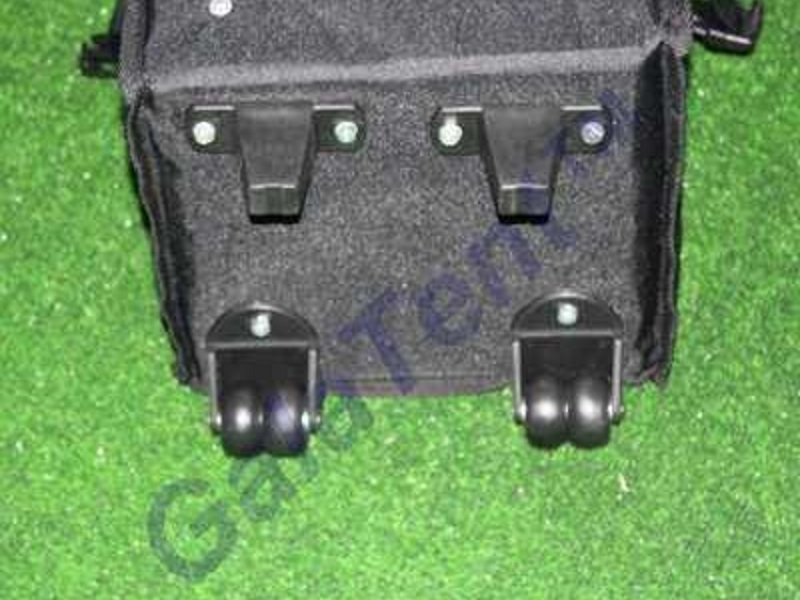 The wheels also make it much easier to transport. Look out for wheeled carry bags with different straps and buckles too. Then you can carry the bag in lots of different ways according to what suits you best, rather than being stuck with only a couple of handles to work with.
Our bags come with lots of different pockets for accessories and also have heavy duty zips. Like all our products they're made to last.
How does it fold up so compact?
The mechanism for folding the hexagonal frame makes it really quick and easy to put up and take down and is also why it can fold up so compact.
There's no screwing parts together, or anything complicated. Instead a combination of gradually pulling out the frames, Velcro-ing the canopy on and sliding out the legs is all you have to do to get the gazebo up. It shouldn't take more than a couple of minutes:
Can sidewalls fit in the storage bags?
Yes, sidewalls can fit in the storage bags.
Make sure your compact, pop up gazebo is still strong!
If you've watch the assembly video you'll have seen one of our team doing some pull ups on the frame once the gazebo is up – not all pop up gazebos can handle this kind of force!
The truth is there's no reason to compromise on the quality of the gazebo just because you're going for a smaller, compact size. So all our compact gazebos have the same hard-wearing features that the rest of our products do.
What are compact gazebos useful for?
Small gazebos are suitable for:
Compact gazebos in commercial settings:
If you are going to an exhibition or running your own marketing event a small, compact, easy to transport gazebo is often preferable over a much larger, more cumbersome model. There aren't many gazebos on the market that are high enough quality to be suitable for commercial use, but ours is. Find out more about using a gazebo in commercial setting here.
We can also print direct on to the gazebo so you can have a bespoke, branded product.
Find out more about other pop-up gazebo features :
Or browse our gazebos here.