Can you use heater in a gazebo?
Yes, you can. We recommend using an infrared heater which can attach to the frame of your gazebo and sit in the corner of the structure as shown below: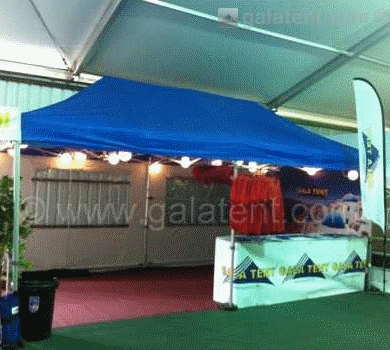 What type of lighting can you use in a gazebo?
There are various options for lighting your gazebo. In essence, anything that can safely hang from the frame is suitable. Lots of people like to use fairy lights, but more commercial, brighter lights are available, for example our LED globe lights that you can see in use on a gazebo here:
Does a gazebo need to be anchored?
Yes, we recommend anchoring your gazebo if you are using it outside. This ensures your gazebo will be able to stand up to the elements.
What options are available for anchoring a gazebo?
There are various different accessories you can use to stabilise your gazebo including:
Ratchet tie down straps
Tent pegs
Leg weighted feet
Frame connectors
Strengthening bars
What are ratchet tie down straps?
Ratchet tie down straps, also known as storm straps, are used on a gazebo, marquee or tent to provide added strength. They work with soft ground and can replace guy ropes.
The ties clip into heavy-duty ground pegs and attached to the eave poles of the gazebo.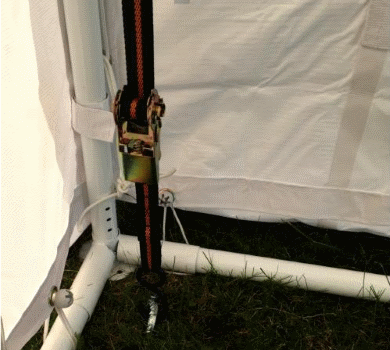 Do I need ratchet tie down straps?
Most of our commercial customers use ratchet tie downs. If you are using your gazebo in bad weather we would highly recommend you use them.
What are leg weighted feet?
Leg weighted feet are used for extra security where guy ropes and pegs are not practical. They can also be used as extra support. Depending on the particular design, the weights either wrap securely around the legs or slide on to the bottom of the frame to add support.
Do I need them?
If you are using your gazebo on hard group like concrete or decking, or any surface that you can't put pegs into, leg weighted feet are recommended.
What are frame connectors?
Frame connectors are used to connect multiple gazebos together. The connector securely fastens them so they appear as one structure.
Do I need frame connectors?
Only if you are using more than one gazebo together.
What are strengthening bars?
Strengthening bars are used to add extra robustness, but can also be used as commercial hangers if you are display products on a market stall or at an exhibition.
Do I need strengthening bars?
If you are using your gazebo commercially then you might want to consider strengthening bars, especially if you are looking for easy display solutions.
What type of flooring is available?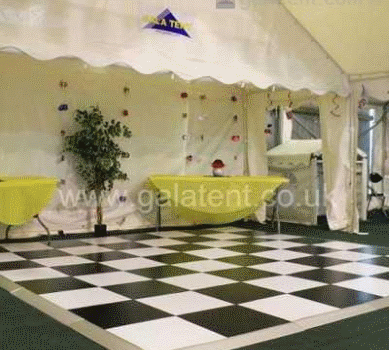 Portable dance floor

If you are using your gazebo for a party, the portable dance floor is a great addition. Use it on top of other flooring to create a specific dance area.

Gala-tex outdoor flooring

This is a great base flooring to use. Extremely strong and durable it rolls out in seconds and can be pegged down. It's designed to let grass breath underneath it, so even if you have the flooring down for a long time the grass underneath won't be damaged. It's made from a waterproof material which makes it really easy to hose down and clean.
This is a popular floor for generic use, both commercial and personal.
Roll track commercial temporary flooring

Roller track flooring is anti-static, non-slip, oil and UV resistant. It's a very easy to install, highly durable type of flooring used a lot in the Motorsport industry

Pit lane flooring tile

Designed specifically for the Motorsport market, but can be used in other industries. It's a very hard wear floor offering good air floor and drainage of liquids which can handle cold environments. Available in different colours to match your team or brand.
Browse our gazebo accessories here.