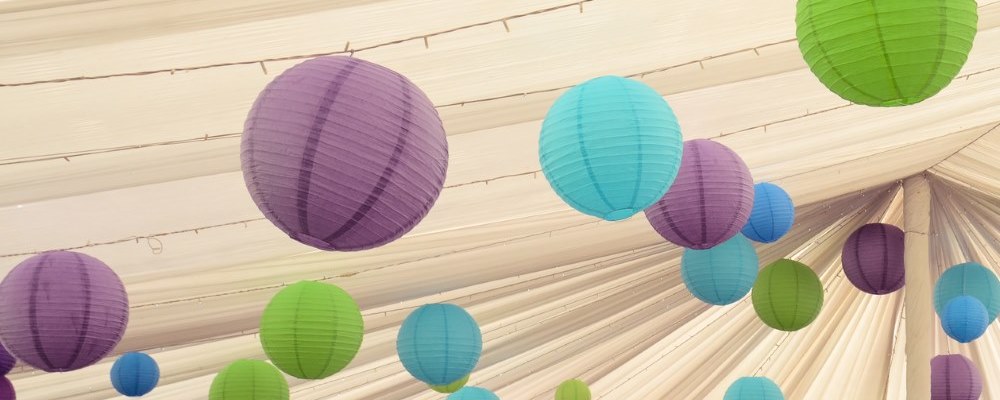 Whatever the event – a wedding, a milestone birthday or simply a big celebration – a marquee lets you personalise the venue to your tastes and truly impress your guests.
The fun comes in choosing a style or theme for your event, then deciding what decorations you'll use to really get it across. A marquee is a blank canvas, offering nearly limitless options for decoration. And not all those options require a huge budget.
Here we present a range of ideas for making your marquee an unforgettable feature of your celebrations.
The marquee
Entrance
Don't wait until your guests are inside to show off your decorating skills – use the entrance to wow them early. Adorn the doorway with flowers, fairy lights or plants (bay trees and lavender bushes work well), or use handmade signposts or seating plan displays to direct guests to their tables.
Ceiling
Marquees have fairly high ceilings and can sometimes feel a little cavernous. Use tall, thin table decorations to make the ceiling seem lower, without obstructing seated guests. Hanging decorations from the ceiling also helps to fill that space overhead, while adding great visual appeal.
If you don't want a white ceiling, you can use linings for coloured, blacked-out or patterned effects, or make the roof transparent.
Walls and windows
In good weather, consider opening out the walls of the marquee to incorporate the surrounding landscape into your theme. If the weather is against you, large panorama windows in the sidewalls can provide the same outdoors effect.
Floors
Depending on the time of year, you might choose to have an open grass floor. If not, you can install coloured flooring that provides a solid surface while looking stylish and enhancing your theme.
Ideas for decoration
Themes and colours
The great thing about a white marquee is that it can accommodate any style, colour or theme. So be creative! And look to the surrounding area and landscape for added inspiration.
Linings
These serve two purposes: they provide insulation and contribute hugely to the overall look and feel of the marquee's interior. They come in lots of different colours and styles, from traditional white drapes to blacked-out linings intended to create a 'starlight' ceiling effect. They can also be combined with swags, bunting and lighting for an extra visual flourish.
Pelmets and swags
Pelmets are short, flat pieces of material used to hide the join between the roof and walls of the marquee. They are sewn directly on to flat roof linings or attached with Velcro to pleated linings. Swags are gathered sections of material that hang from the roof lining.
Lighting
How you light your marquee is vital if you're to create the perfect atmosphere. Fairy lights twinkling overhead or running down the walls provide a romantic effect, while festoon lights give off a softer, warmer glow. Candlelight is good for ambience – place tealights in jam jars and put them on tables or hang them from tree branches outside.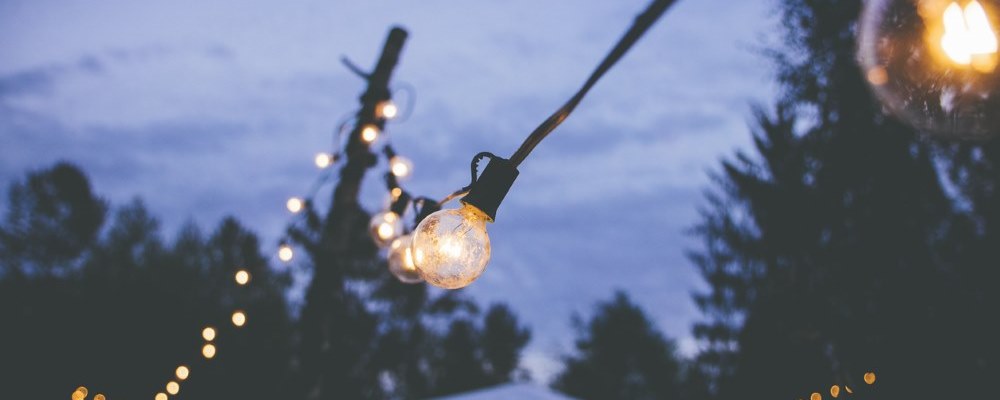 Fairy lights
If you're planning to buy and install fairy lights yourself, there are a few things to bear in mind. Where do you want them to go? Are you wrapping them around beams or columns? Are you creating a canopy? You might only use one or two sets of lights on your Christmas tree, but to properly decorate a marquee you'll need several. And these each require a long enough cable to reach a plug socket.
Make sure you choose LED fairy lights over the traditional ones, as they use less power and won't overheat. You should also consider using circuit breakers for extra safety.
Because there is so much to think about, it might be worthwhile hiring a professional company to provide your lighting. They will make sure it is properly installed, using special adaptors and other equipment to ensure cables and wiring are fully hidden.
Festoon lights/string lights
Hanging festoon lights across large spaces like marquees and outdoor areas takes a bit of work, but is definitely worth the effort. If you're unsure how to do it, go online, where there are lots of instructional videos and blogs offering step-by-step guides.
Hanging decorations
Suspending vibrant, colourful decorations from the ceiling is a sure-fire way to thrill your guests. And you have a number of options:
Bunting
You can buy bunting from all sorts of craft-type shops, but why not make it yourself for that personal touch? Use fabric, tissue paper or cardboard, and string the bunting across or around the roof of your marquee. For something a little different, try gold or silver metallic bunting.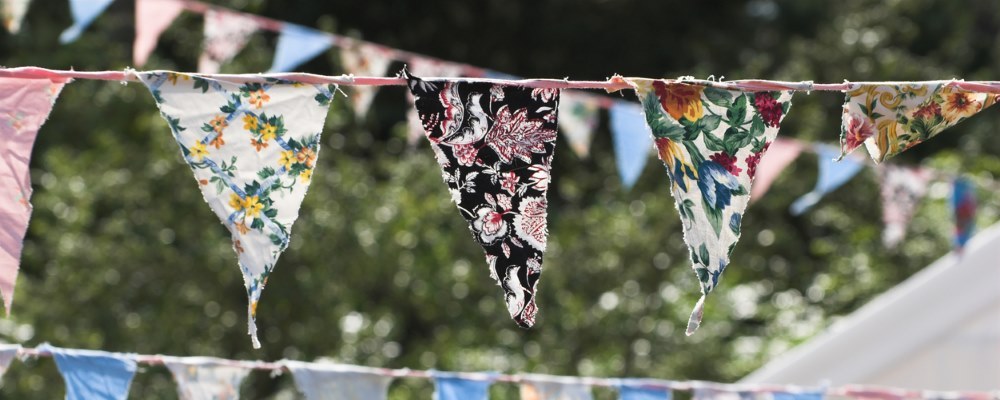 Paper lanterns and pom-poms
These are easy to make and perfect if you have a limited budget. Use clear nylon or fishing wire and transparent clips to hang different-sized, multi-coloured lanterns or pom-poms across the full ceiling. Bright colours – particularly yellows – are very popular for summer events.
Save time on the day of the event by attaching the nylon/wire and clips beforehand. Decide where you want to place the lanterns or pom-poms then clip them to the roof of the marquee. You can tie them across the roof to create a large canopy, or hang them at different heights. There are also wireless battery-powered lights you can buy to put inside them – never use candles or any other open flames!
Flowers and leaves
Hang long strings of flowers and leaves, or coil them around wooden frames or chandeliers suspended from the ceiling. You can also weave fairy lights throughout the arrangements.
Table decorations and centrepieces
Decorate your tables with something meaningful or personal to you. Add colour with table runners made from unused fabric or by scattering paper flowers across the tabletop. For unusual yet elegant centrepieces, float large, round and opaque balloons over the tables or fill glass jars with fairy lights.
For wedding marquees, consider using grey rather than white tablecloths. Not only do they offer something different but they look warmer and more sophisticated.