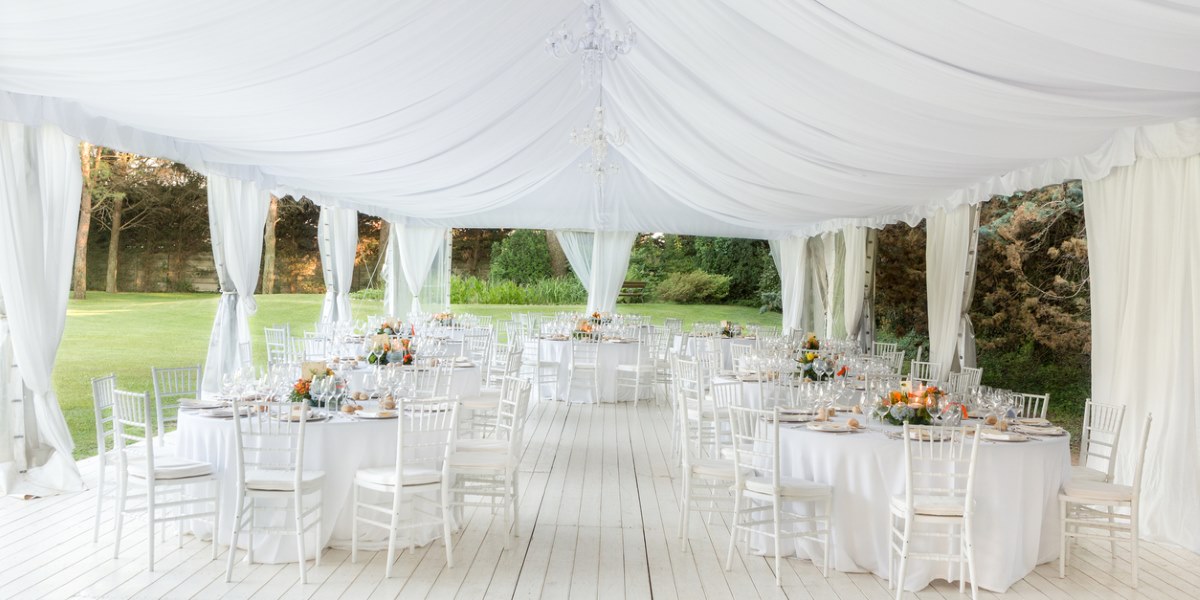 You're engaged to be married, and now you face the pressure of planning your wedding. Like every couple in your position, you have an image in your head of how you see the day unfolding, and naturally you want everything to be perfect.
One of the first things you'll have talked about is where to hold the reception. You have lots of family and friends and you'd like all of them to share in the joy of your big day. You hope to take advantage of the summer weather and the photo opportunities that come with a romantic, picturesque location. You want every aspect of the wedding—down to the tiniest detail—to reflect your taste and character. You're aiming for a touch of class.
Have you considered a marquee? You might be surprised at how many of the points on your wedding checklist a marquee will help you tick off. Let's go through them:
Why marquees are ideal
All the space you need
Hold your reception in any sort of function room or indoor venue and you can only invite as many guests as can safely fill that space. With a marquee, however, you have much more freedom. Not only do marquees come in a wide range of sizes to begin with, but they have the benefit of being expandable, with extension kits and add-on bays available to increase the size of the room further.
All you have to worry about then is finding a site that will comfortably accommodate your marquee. You might have a field or decent-sized garden at home, or know someone who does and is happy for you to host your event there. Don't worry about needing acres of land—building a marquee from the ground up means you can incorporate it efficiently into the available space and have it as an offshoot to the house. If you decide to use public land, you'll need permission from the relevant council.
Many wedding venues now let you erect marquees on their grounds and have just the ceremony inside, while others offer you use of their land with no obligation to hire the buildings as well. Some venues even have their own permanent marquees.
Design and decorate them exactly as you like
A marquee gives you limitless options for design and decoration, allowing you to dress up the venue to your exact specifications. Some of the considerations are more practical, where you need to make decisions on things like:
flooring – do you leave the grass exposed or cover the ground with carpet or special temporary flooring? The weather (you don't want guests tramping across boggy lawns!) and the evenness of the ground will influence what you do here.
tables and chairs – do you sit guests at one long rectangular table or a number of smaller round ones?
the interior – do you leave it 'open plan' or use dividers to section the large space into rooms? If you have caterers, for example, they'll need a kitchen space in which to set up their equipment and prepare the food. You might also want a bar area or a separate room for people to sit and chat, away from the hectic dancefloor!
The fun part comes in the decoration. You might adorn the entire space with bunting and paper balloons in your favourite colours for strong visual impact, or drape the bare white walls and ceilings with linings and swags for a more traditional, elegant look. Or you might hang strings of lights across the ceiling or around frames and poles. You really can be creative as you like, and on a reasonable budget if you do a lot of it yourself. Our guide to decorating marquees will give you plenty of inspiration.
Make the most of the glorious surroundings
Why situate your marquee among beautiful scenery if your guests can only enjoy the view on their way in and out? If you're having a summer wedding, tie back the walls of the marquee and make the stunning landscape part of the experience. If you think the weather might work against you, large windows in the sidewalls of the marquee allow you to incorporate the grandeur of the surroundings into your reception while still keeping everyone dry and warm.
Keep the party contained!
While there's a benefit to having an open marquee, where people can flit in and out as they like, there might come a point in the evening—after the drinks have been flowing—when you'd rather keep everyone inside! With a marquee reception, you're not tied to a curfew or forced to cut the music at a certain time—the celebrations end when you want them to.
Combine with a stately home for the best of both worlds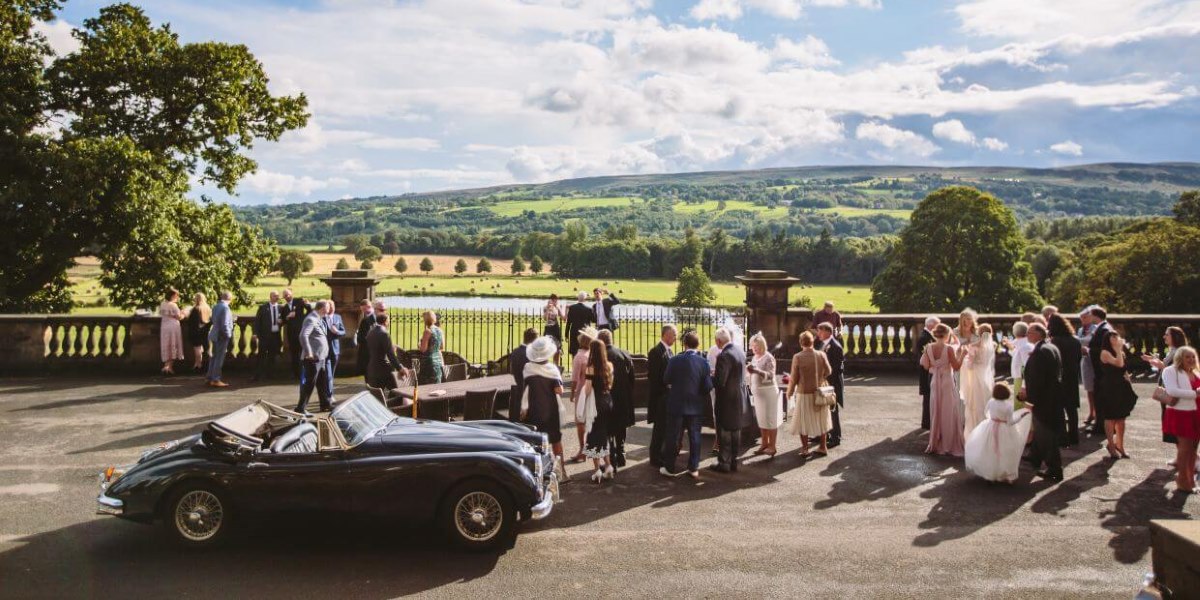 Denton Hall, Ilkley
Image credit: http://www.denton-hall.co.uk/weddings/gallery
At Gala Tent, we were curious to know what kind of venue members of the public would pick for their wedding reception. From a survey of 621 people, we found that the marquee was the second most popular option, exceeded only by the stately home.
| | |
| --- | --- |
| Stately home | 36.8% |
| Marquee | 17.6% |
| Church hall | 15.3% |
| Pub function room | 13.9% |
| At home | 12.4% |
| Hotel | 0.4% |
| Beach | 0.4% |
| Other | 3.1% |
Interestingly, while marquees were all but dismissed by people aged 65 and over (the lowest percentage of votes, at 10.1%) they were particularly favoured by the youngest group of respondents, the 18- to 24-year-olds (22.7% of the vote). So there might be something to the suggestion that marquees are becoming increasingly fashionable among today's youth, despite their reputation as a more traditional venue. Indeed, a trend touted to grow in 2018 is the number of young couples opting for a more stripped-down 'backyard wedding', where both the ceremony and reception take place at home and only family and closest friends are invited. Marquees are a perfect setting for such an intimate occasion.
But the beauty in all of this is that it doesn't have to be one or the other. Many of the stately homes operating as wedding venues offer a marquee (or the grounds on which to erect one) as part of their packages, giving couples the best of both worlds.