Click on the links below to jump to the relevant content:
Are all marquees waterproof?
While part of your interest in buying a marquee is undoubtedly to keep your party or event guests out of the elements, not all marquees are guaranteed to be 100% waterproof, particularly cheap ones.
The material matters, too:
PE (polyethylene) is a waterproof material, often being used for tarpaulins or groundsheets, but for marquees the seams are sewn together and sealed with liquid PE.
Poly/PVC is a polyester canvas with a PVC coating on the inside, meaning it's highly waterproof.
PVC is widely considered to be the ultimate, all-weather marquee material: very hard-wearing and completely watertight
Why you shouldn't buy cheap:
The cheapest marquees tend to be made with thin PE (120gsm or less), which not only looks cheap but water resistance can't be guaranteed, especially over time.
The cheaper products also tend to use plastic joints for the frame, which could snap during the first use. By contrast, the best quality marquees come with powder-coated metal joints, which are strong and durable as they're not prone to rusting.
Can I buy extra lining for my marquee?
Marquee lining is available to buy, but generally for aesthetic purposes rather than for extra waterproofing. For example, you could buy satin lining to give a luxurious finish to the inside of your marquee for a special party or wedding. The right marquee will be fully waterproof without the need for extra lining.
Which material is right for me?
To help you decide which material is best for you, think about what you're planning to use it for:
| | |
| --- | --- |
| Intended use for marquee | Best marquee material |
| To cover a bar/food serving area and/or provide occasional shelter at occasional outdoor parties | A good quality PE marquee is fine for this purpose; though make sure you allow enough space to shelter all your guests should the heavens open |
| For larger garden parties where you want to provide space for guests to sit down/eat/dance inside if they wish | You should still be fine with a PE marquee; however, if you're likely to host frequent parties then you might want to invest in poly/PVC that will last over time, offer higher water resistance and look more luxurious |
| For a wedding or special event | For a special occasions, a poly/PVC marquee has the aesthetic edge over PE, while offering the reassurance of complete water resistance on the big day |
| For corporate events | A heavy-duty PVC marquee is ideal for corporate events. They're lavish in appearance and completely watertight/weatherproof, making them a popular choice for large numbers and frequent reuse |
Does the flooring matter?
Your decision to put flooring in your marquee will be dependent on the time of year and risk of rainfall, the type of event you're hosting (see table above) and the type of ground your marquee will be set up on.
No floor
This is only really appropriate for a summer garden party when the marquee is erected on an area of flat, even or hard lawn. But if it does rain, the grass under the marquee is likely to become damp and soft underfoot for those sheltering in it.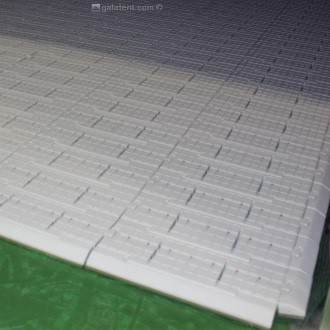 Roll track flooring
Creates a solid, secure surface underfoot that protects the grass and your guests' shoes in wet weather. Best for events where the marquee is intended for an eating/drinking or seating area, rather than when the majority of the event is to take place in the marquee (such as a wedding reception), when a 'carpeted' look would be softer and more attractive.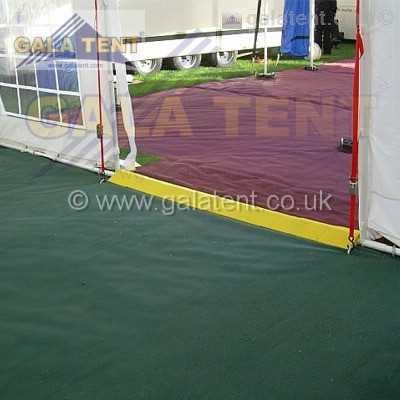 Cut-to-size outdoor flooring
With a 'carpet' appearance and waterproof, durable properties, this is the best quality option for your marquee floor. Our Gala-Tex flooring comes on a roll in burgundy and green, can be rolled out in seconds and pegged down for instant coverage, while crucially allowing the grass underneath to breathe.
Can I waterproof the marquee myself?
Our marquees are manufactured to a high standard, with stitching given seam-sealing wherever possible to increase protection so you shouldn't need to take any waterproofing measures yourself. Leaks are extremely rare but the odd drip of water can be remedied by using a seam sealant on the area.
And don't be misled by condensation, which can occur on the inside of PE and PVC marquees that left up for long periods without sufficient airing.
In the rare event that one of our polyester canopies leaks on the first use due to heavy rainfall, this should be rectified with subsequent uses but using a Scotchguard spray on the area can help to reproof it.
Will my marquee withstand strong winds?
We pride ourselves on our highly weather-resistant structures, which includes the ability to withstand strong winds. So long as you secure the marquee with the recommended tie down kits, ground bars and weighted feet, wind speeds of 30mph and even higher should not be a problem.
Take a look at this customer's video for reassurance.
Related content