Tomorrow we celebrate twenty years in business for
Gala Tent
, and the fifth in our series of blogs looks at another reason why we stand apart from our competitors. We get many telephone calls from disgruntled clients of other retailers (naming no names!) whose tents have broken. They are unable to source spare parts to repair the structure, and would really rather not be forced to spend on a brand new tent again. Unfortunately, as our patented structures are exclusive to Gala Tent, we are unable to provide the solution to their pain, but here's the lesson. Ensure you purchase your gazebo or marquee from a supplier who is able to provide a full range of spare parts next working day, as it will be the difference between a £30 cost to fix the tent, or £500 to replace it.
To find Gala Tent Marquee Spare Parts, click
here
.
To find Gala Tent Gazebo Spare Parts, click
here
.
Spare Parts Readily Available
The beauty of
Gala Tent developing and manufacturing all of our own products
is that we have a wide range of spare parts for your marquee or gazebo available for next working day delivery (from the spare parts we supply, you could build an entire new gazebo or marquee), so even if your tent is long out of warranty or you experience some accidental damage to your structure, you can replace an individual component at a fraction of the cost of a whole replacement gazebo or marquee, which gives you peace of mind and it can mean that your new Gala Tent structure can be the last one you'll ever need.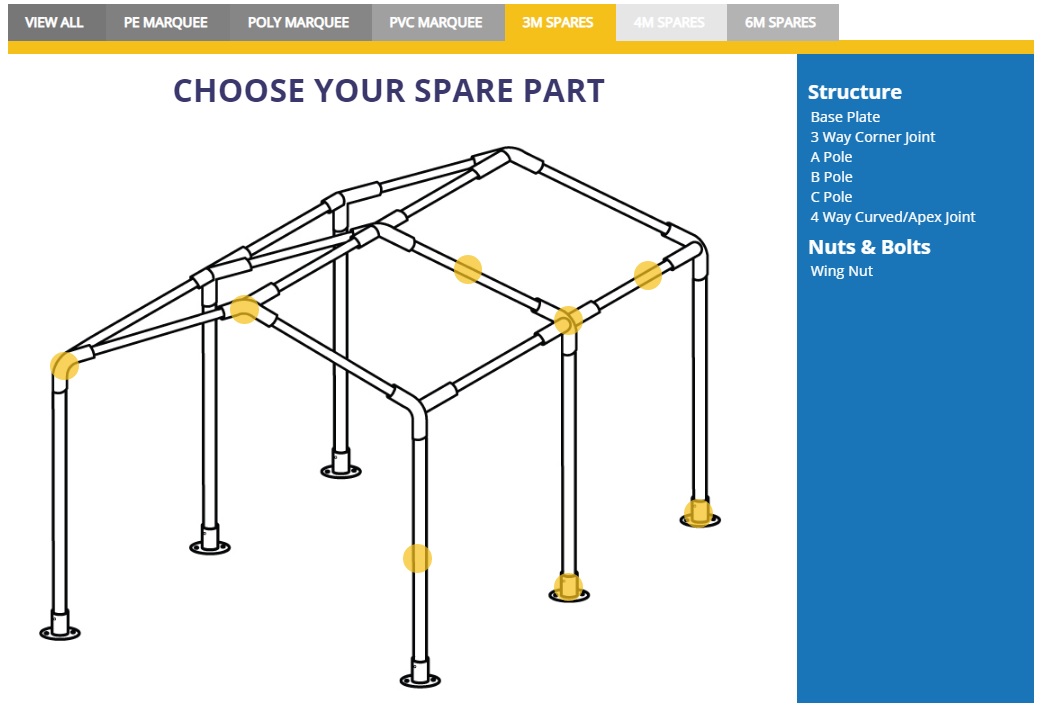 On top of the spare framework, there is also a comprehensive range of canopies and sidewalls available, and so versatile are the Gala Tent marquees, you can even take a different size of roof section if you wish, and remove framework to create a smaller tent, or take additional framework and a larger canopy, and you then have two marquees in one!
That's an unbelievable benefit, and one that we feel sets us apart from many of our competitors.
Jackie H
, who reviewed the service she received in 2019 would tend to agree:
"I contacted Gala to replace poles and joints that got broken when our marquee got blown away! Great service and helpful telephone conversation resulted in replacements arriving the following day."
Lorraine M
had this to say about the
replacement marquee covers
she purchased recently:
"Highly recommend Gala Tent. We urgently required replacement parts for our ten year old tent which has been erected for the last nine summers, every summer, for the summer! The products are strong, sturdy, and have lasted well. Gala Tent staff were very helpful and managed next day delivery on items we urgently required. The replacement roof and window sides arrived as they promised and I'm sure they will last as long as the first set. Excellent products and service. Thank you Gala Tent!"
And in 2015,
Mrs Mary F
had experienced exactly the kind of scenario that you can easily avoid by making your purchase from
Gala Tent
:
"I have had previous tents purchased from other companies but they have all broken and you can't buy spares. I had promised my daughter a Gala Tent so she could have friends round for a tea party. Will definitely recommend (to friends) but when they see it erected I'm sure it will speak for itself."
So when you're looking for your next marquee or gazebo, don't just consider the price of the tent. Consider the other factors that add value and peace of mind to your purchase, and we are absolutely certain that the ability to replace a gazebo or marquee spare part with next working day delivery at a fraction of the cost of a new tent is reason enough to choose Gala Tent.