On this page you will find:
The main points you need to think about when choosing your marquee, including:
What to consider when choosing a marquee for a garden party:
What will the marquee be used for?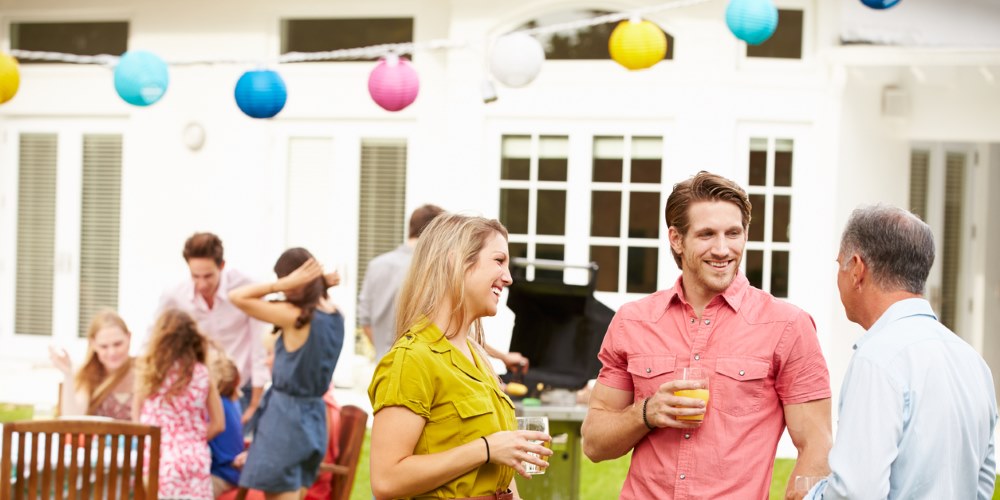 Marquees are a great investment for hosting parties of all sizes and celebrating a variety of occasions. For garden parties marquees are ideal, because they're weatherproof and can be heated on colder days. But first off, it's important to think in more detail about what you'll be using the marquee for: whether it's for the main party or just an eating or bar area, for example. Here are some ideas:
To cover the bar area
As a back-up in case it rains
As an eating or sit-down area
This decision also has a huge impact on the kind of accessories you'll need, including heaters, lights, tables and chairs.
How big does the marquee need to be?
To work this out you need to consider:
What you are going to use the marquee for (see above)
How many guests you are expecting
If the marquee is going to house eating and drinking, for example, then you'll need to factor in enough space to accommodate seating for all your guests, as well as for the bar. Or if you want it to be a more informal place to relax or have a break from the outdoor activities, you may want to consider different furniture, which again will affect the choice of size.
As a guide, a 3m-wide marquee is great for a catering and informal seating area that won't take over your garden, while the larger 4m range are perfect for accommodating more guests with seating and a dance floor, for example. For a large garden party, a 6m-wide marquee will allow for a more formal seating plan and/or extra furniture.
Take a look at our size guide to figure out the size that you need:
| | | |
| --- | --- | --- |
| Marquee size (metres) | Standing guests | Seated guests |
| 3 x 2 | 10 | 5 |
| 3 x 3 | 12 | 6 |
| 3 x 4 | 20 | 10 |
| 3 x 6 | 32 | 16 |
| 3 x 8 | 44 | 22 |
| 3 x 10 | 56 | 28 |
| 3 x 12 | 68 | 34 |
| 4 x 4 | 24 | 12 |
| 4 x 6 | 40 | 20 |
| 4 x 8 | 48 | 24 |
| 4 x 10 | 60 | 30 |
| 4 x 12 | 70 | 38 |
| 6 x 4 | 40 | 20 |
| 6 x 6 | 60 | 30 |
| 6 x 8 | 80 | 40 |
| 6 x 10 | 100 | 50 |
| 6 x 12 | 120 | 60 |
| 6 x 14 | 140 | 70 |
| 6 x 16 | 160 | 80 |
| 6 x 18 | 180 | 90 |
| 6 x 20 | 200 | 100 |
| 6 x 22 | 220 | 110 |
| 6 x 24 | 240 | 120 |
Which material do you need?
Gala Tent offers a range of marquees in different materials: polyethylene (PE), poly/PVC and PVC. You can read more about the features and advantages of each on our Which marquee is right for me? page, but in summary PE is the most affordable, lightweight and cheap to replace of these materials, while PVC is more heavy duty and luxurious in appearance.
Where will the marquee be placed?
The location of the marquee is another important factor to think about. For a smaller marquee that's simply covering the bar area, for example, you can be flexible as to where in the garden you place it – unless you need an electricity supply, in which case you might need to be closer to an electricity supply and hook up to it using extension leads.
For larger marquees and potentially higher electricity use, it might make more sense to set up further away from your house or main building, and hire an electricity generator.
What type of surface do I need?
The flatter the surface for your marquee, the better, although a slight slope isn't a major problem. Grass is the easiest surface to erect a marquee on. Other surfaces can work too, but these would require pin holes to be drilled or water weights to be used if the surface cannot be drilled.
Or you could consider our range of fusion marquees – these can be erected without the need for specialist tools or machinery, and will remain rigid on both hard and soft ground, without the need for guide ropes or other supports.
If the marquee is going to be set up on grass, flooring is a recommended accessory to protect your lawn but it isn't essential.
How to set up your marquee
Our marquees are straightforward to assemble, with full instructions provided. There are also a number of user-friendly videos on YouTube if you need extra help.
How do you want to decorate the marquee?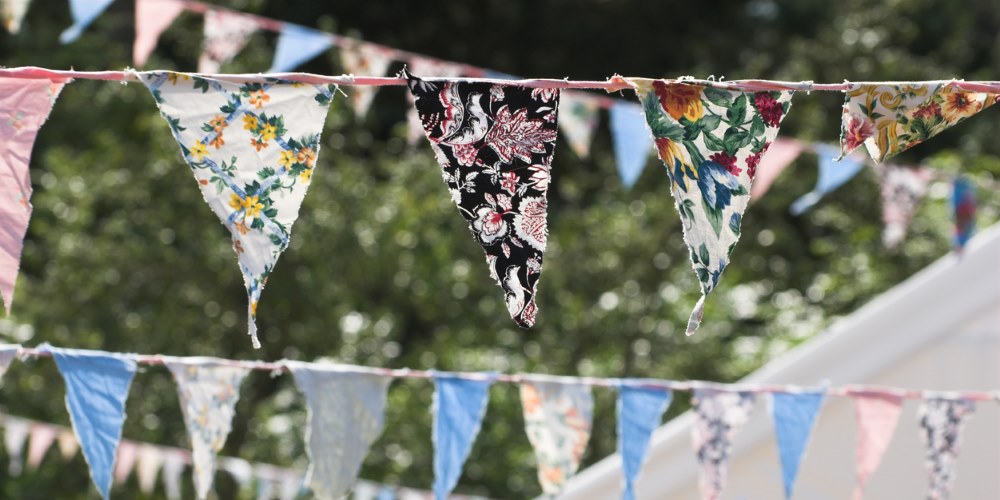 Even our smallest marquees can be decorated with bunting and fairy lights, while the larger ones look great when decorated with flowers, hanging ornaments and grander lighting schemes. Take a look at Gala's range of lighting to decide what might be best for your party.
If the celebrations are likely to continue into the evening hours, you could also consider a dance floor (of course, you'll need to factor this into the size of the marquee you need – see above).
What accessories can you use in a marquee?
Lights
Furniture
Dance floor
Bar
Is a marquee what you need?
Depending on your needs a different style of tent might suit you better. If the marquee is only intended to cover a small area, then you might also want to consider a gazebo. But marquees are great if you'd like most of your party to take place in the tent, or if it needs to accommodate most or all of your guests at any one time.
To cover the bar area
If you are only using the gazebo to cover the bar you need to take into account stock, room for bar staff (or guests) to serve the drinks and whether you want to give people standing at the bar shelter as well. Questions to answer:
Are you going to store the drinks on the bar, on a separate table or shelf or on the floor?
How many different types of drinks are you going to serve?

Beer and wine?
Soft drinks?
Spirits?
How many drinks are you going to have available?
Do you need room for servers to stand behind the bar?
Have you got enough space for guests to stand at the bar and order?
General rule of thumb for quantity of alcohol is that guest will want to drink three drinks in the first two hours and an additional drink per hour after that. But personal experience and what you know of your guests can change this. This affects how much space you need in the bar area.
Some people set up a bar on a help yourself basis, others will have servers behind the bar ready to take orders and pour drinks, another alternative is to have staff circling the party handing out drinks rather than have guests go direct to the bar. In this instance you will still get guests going to the bar for special requests.
Here's a rough guide to the dimensions of different drink boxes so you can start to think about how much space the drinks are going to take up:

12-bottle cardboard wine box – 396 x 271 x 340mm

24-bottle cardboard beer box – 386 x 306 x 248mm
As a back-up in case it rains
With a garden party the aim is usually to spend time outside; however, the British weather is infamously unpredictable and a back-up space for your guests will provide peace of mind. Even on the sunniest days, some guests will want to sit in the shade and a marquee provides that protection – with the added bonus that the walls can be rolled up to keep the party open and inclusive. You could then bring the walls down and the party inside if and when the weather turns, or for the evening hours.
To ensure there's enough space for this scenario, we'd recommend using a 4m or 6m-wide marquee, depending on the size of your party (see above).
As an eating or sit-down area
You'll probably want to serve food at your garden party, whether it be nibbles, a buffet or a BBQ. Your marquee can provide cover for the food – and for the preparation of food if required – while offering seating for guests who don't wish to sit outside or when the weather doesn't permit it. In this instance, you'll need to allow enough space for tables to serve food and for enough chairs and tables to accommodate guests – this is often a judgement call based on the weather forecast and/or how many of your guests are likely to want to sit inside to eat.
So – as with the bar area – you'll need to think about:
How much food you want to serve, whether it will be prepared in the marquee and how much table space it will take up
How you want the guests to be served their food: as a buffet where they approach one side of the tables; as a buffet where they can walk around the tables; or as a more formal, sit-down meal where they are served their food at the table.
Our furnishings and catering equipment are designed to suit a variety of different needs.
Heating and lighting the marquee
You may wish to think about heating and lighting your marquee if the garden party is continuing into the evening, or if the weather is on the chilly or wet side.
What kind of lights could I use?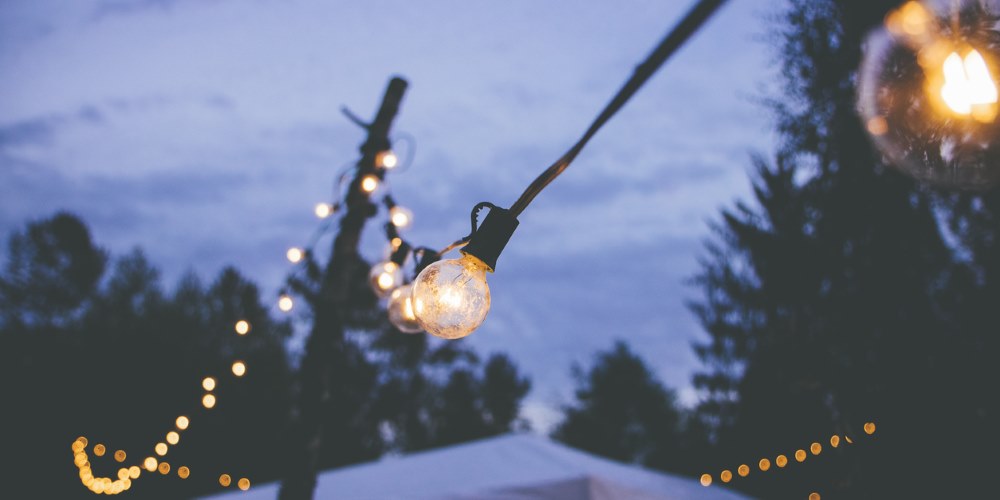 LED globe lights
Globe lights are easily mounted on the frame of your marquee and provide a good amount of light. If your party is moving inside the marquee for the evening, then these are a good bet for sufficiently lighting the tent.
Chandeliers
If you want to add a touch of class to your garden party marquee, chandeliers are a striking and glamorous lighting option. Our crystal ceiling chandelier is easy to store and to hang.
Six great games for garden parties
Giant Connect 4
Giant Jenga tower
Quoits
Treasure hunt
Wooden skittles
Limbo
Fairy lights
Fairy or string lights are decorative and provide subtle lighting. They're also easy to run up or wrap around the frame of your marquee. You'll probably need to buy a few sets of lights to go around, and it's best to look for those that are designed for outdoor use.
Stake lights
A simple but effective way of providing light around your garden and leading up to your marquee is to use stake lights that go in the ground. They're often solar powered, so they don't need connecting to a power supply. But they can be a trip hazard, so make sure they're kept well out of the way of your guests.
How can I heat my marquee?
While your garden party is likely to take place in the summer months, it can get chilly on cloudy days and in the evening so you might want to consider heating the marquee.
Electric infrared heaters can be mounted on poles within the marquee, while parasol heaters are good for keeping guests who wish to stay outside warm. Safety is really important when choosing heaters, so if you're unsure you can always ask us for advice.
Related content
How to choose a gazebo for your garden party or outdoor event
Frequently asked questions about marquees and gazebos