First question - Is a gazebo what you actually need?
Are you envisaging this?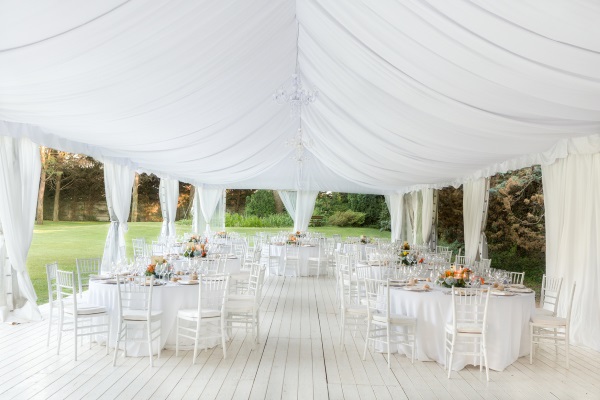 Or this?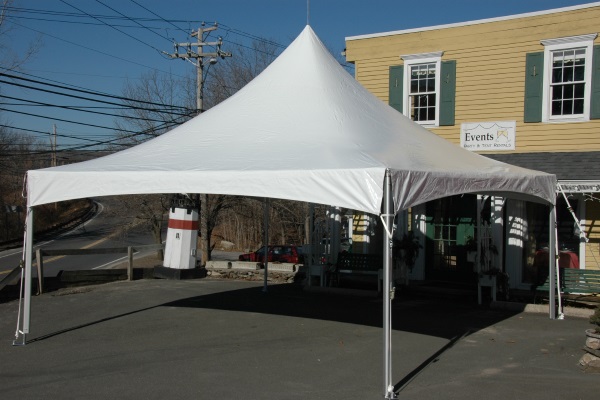 If so, you probably want a marquee or pagoda.
Gazebos are smaller, and best for:
A covered area for the couple during the ceremony (but it won't cover the guests)
Small tents to provide a bit of shelter from the elements
Cover for buffets, bars or a workspace for serving staff
A smoking area
A smaller reception area to lead you into a marquee or bigger tent
A unique outdoor area for the reception
A marquee or pagoda is suitable as a full reception area or to cover everyone during the service.
So the best situations to use a gazebo are:
If you are having a mainly indoor wedding and want to provide cover for people who need to go outside (to get some air or a change of scene)
If you are having all or part of your wedding outdoors and want to provide some potential emergency cover, for example, if the period in between the service and the reception will be outside
Gazebos are generally smaller than marquees and won't provide cover for a lot of people – if you want all your guests to be covered at the reception or ceremony, a marquee will suit you better.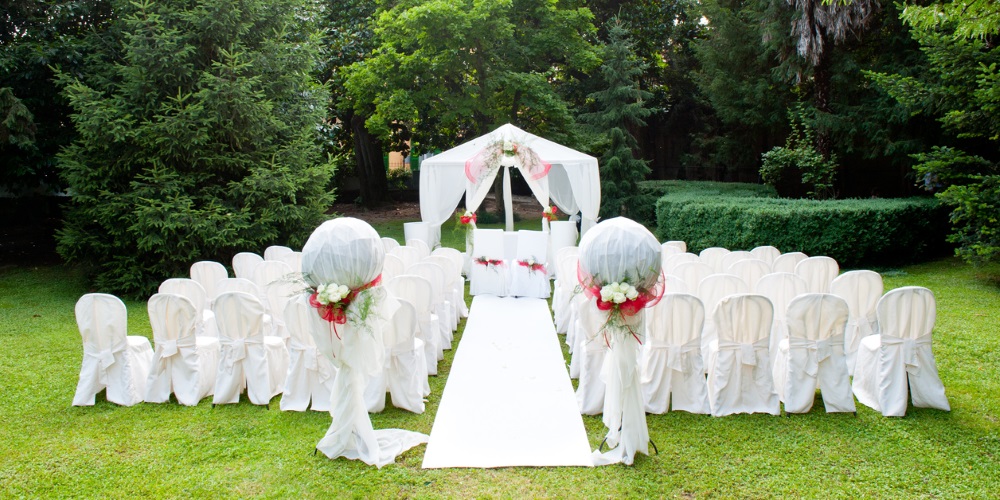 Gazebos are incredibly hassle-free and offer security if you are worried about the weather
In short, they are really easy to put up, take down and clean;
And they protect from rain and sun.
Having any part of your wedding outdoors is always a bit of a risk since weather can be unpredictable. Sometimes you don't want to commit to a full tent just to ensure against the risk of rain, but you do want to be able to have parts of the wedding outside without having to completely compromise and move everything indoors.
Use multiple gazebos dotted around the outside area to provide cover from the elements, or have them available to put up if the weather turns
Gazebos are the best way to handle this scenario. If it's a summer wedding you're unlikely to have a total downpour in the UK (though never say never) but you could have the odd brief shower.
Since pop up gazebos take two minutes to put up (literally two minutes!) you don't even need the gazebos out in the first place. Staff can simply put them up if the weather turns. Or, if you like, you can have a few dotted around to provide cover, just in case.
Don't forget that gazebos also offer shade from the sun. Wedding outfits may look smart but we all know some clothing can get uncomfortable during the heat. Take that and combine it with alcohol consumption and a boiling hot day and you can start to imagine why pockets of shade could be well appreciated.
Will it look wedding worthy?
Yes, you can easily transform a gazebo that you might use for camping into a wedding-worthy construction. The best things to use are valances or leg covers, like these ones:
You can also use gazebo add-on walls to give the gazebo a back and sides if you prefer that look. If you want to create a soft look, hang some fabric from the frame.
Wedding decoration ideas for a pop-up gazebo: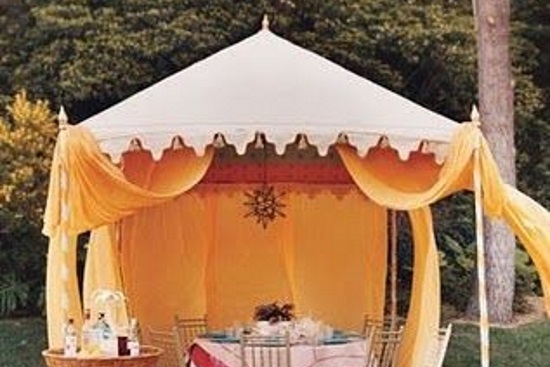 Clever use of fabric to create a porch:
Here's how you do it:
1. Attach some fabric to the bar nearest the edge of the gazebo that you want to be the front;
2. Stake some poles in the ground just ahead of the gazebo;
3. Wrap, or drape, and secure the fabric around the poles to give a porch-like impression.
This type of decoration works really well to create a bar or food service area – the porch creates that bit of extra space for people to stand or wait at the bar.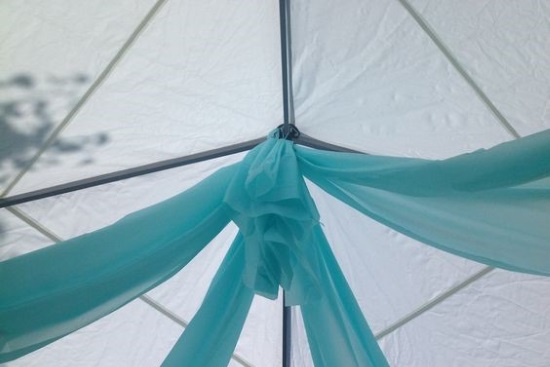 Draping attached to central frame:
This works great as a low-key, elegant decoration that is really easy to put up and doesn't take any craft work to create.
Get your fabric, get a step ladder, tie it to the central frame and tie the ends to the outer frame.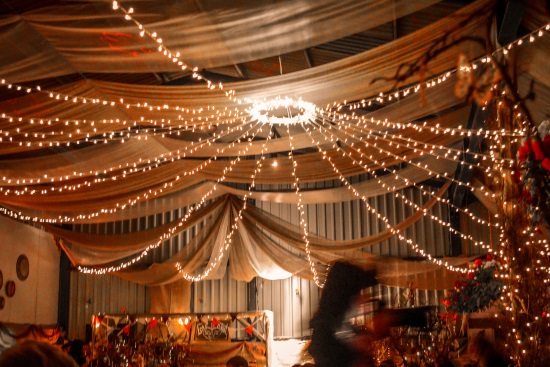 Fairy lights
Light-weight, waterproof fairy lights are a great way to add some magic to your gazebo. Like other decorations, you can hang them off and around the frames to create a really special effect.
Light weight hanging decorations:
The best way to decorate your gazebo is to make good use of the frames. The right kind of hanging decoration can transform the aesthetic of the tent. The great thing about these kinds of decoration is you can also hand-make them if that's your thing.
You can make decorations in all sorts of different styles to totally transform the look of the gazebo:
How can you get electricity, lights and heating to it?
If the gazebo is too far away from an indoor electricity source then your best bet is to use a generator, which can hired fairly inexpensively. You may well need a generator anyway depending on the amount of electricity that the lights and heating use.
Get creative! A gazebo can let you have these unusual ideas:
A fire pit with an outside bar

If your reception area is small, it sometimes works well to break up the area in to two, so that those who want to dance can enjoy themselves, whilst those who want a bit more of a sit down and chat can have this too. Even bigger reception rooms don't always offer this, as the music can be too loud for those sitting down to actually enjoy themselves. If it's a summer wedding, a fantastic way to create the chill-out area is by installing a fire pit with a small, separate bar outside covered by a gazebo.
If you've got a fire pit, it would seem a waste not to provide your guests with marshmallows for toasting!

A separate cocktail bar

If you want something a little different at your wedding but don't want anything cheesy or gimmicky, a mini cocktail bar is a great solution. It's also a great way to separate your day from your evening and give the latter part of the wedding a sophisticated, night-time feel.

A shisha area

A shisha area is a cool and relatively cheap little add-on that again provides that separate chill-out area that lots of people appreciate at a wedding. Use a gazebo, or a couple of gazebos with some chairs, benches or bean bags to mark out the area. If you use some of the design tips above you could create a really magical little den!
Find out more about events & situations where you can use a gazebo :