A portable garage – also known as a carport – is a great choice for someone who wants a garage but doesn't necessarily have the time or funds to build a traditional garage.
What is a portable garage?
A portable garage is exactly as it sounds –a temporary (although it doesn't have to be) outdoor structure that consists of a frame with a fabric cover. It offers low-maintenance storage space for almost all vehicles. It doesn't need to be restricted to vehicles though, it's also great temporary storage for equipment and bulk products.
Basically, a portable garage is an easy-to-erect temporary structure that protects your vehicle or possessions from the elements.
Why should I buy?
There are plenty of reasons to enjoy portable garages; here are just a few of our favourites:
Save time and money
A portable garage is much cheaper than your standard bricks-and-mortar garage. A permanent structure requires more materials and manpower. This will increase the cost, meaning that it's a serious and expensive long-term investment. Plus, our portable version offers a manufacturing guarantee – so you know you're getting a bang for your buck!
Portable garages are also incredibly easy to put together, we use an easy-to-build frame with a simple screw-fit – so you could have your new garage in less than an hour.
To find out more, have a look at our installation guide.
Protect your vehicle
The most likely reason you'll be buying a portable garage is to store and protect your car. Portable garages offer protection from rain, hail, snow and sunlight. Gala Tent's carport is made from an all-steel frame that can withstand tough conditions. Our materials range from PE to 100% PVC, which provide robust and convenient coverage for your vehicle.
Whether it's your regular commuter vehicle, a hobby car or something more seasonal like a snowmobile – this cost-effective, portable structure will provide them protection.
Convenience
Portable garages are simple to set up and you can place them almost anywhere! You don't need a permit to build a portable garage, so you can place it anywhere on your property at any time — no ground excavation or foundation laying is necessary.
Carport Original (PE)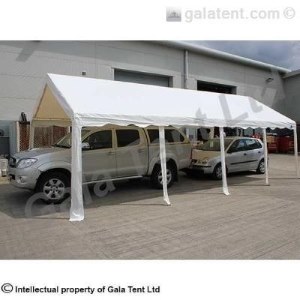 This is the original Gala Carport, which combines Gala's award-winning marquee with a fresh carport design. Made from top-quality PE material, the carport original is a solid all-rounder.
Top attributes
British fire rated
Available in 14 sizes
Lightweight
Great for:
Temporary storage
Marketing
Trade shows
Review
Carport Elite (100% PVC)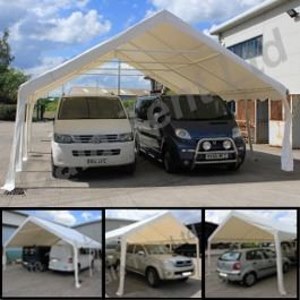 The 100% PVC Carport Elite boasts incredible quality and durability. The PVC material means that this carport can withstand weather over many years. The premier quality of the PVC means the heavy-duty material is self-cleaning. If you're looking for the best quality carport for your home, this is the one.
Top attributes
100% heavy-duty PVC commercial quality self-cleaning covers
Powder-coated framework
Incredibly durable
Great for:
Seasonal vehicle storage
Boat storage
Motorsports awnings
Review
Susan Williamson
2017-06-28
Can I use it for my business?
Absolutely, carports can be perfect for commercial use. Here are just a few examples:
Trade shows
Marketing
Festivals
Exhibitions
Outdoor valeting and detailing workshop areas
Motorsport awnings
Seasonal vehicle storage
Garden centres (you can store anything in a carport)
Boat storage
When it comes to commercial uses for carports, your imagination is the only limit.
Can a portable garage fit more than one car?
Yes! The Gala Tent carport is available in 15 different sizes. Ensure you choose the right one for you. See our guide below:
| Size (m) | Vehicles |
| --- | --- |
| 3 x 2 | 1-2 motorcycles |
| 3 x 4 | 2-3 motorcycles |
| 3 x 6 | 1 car or 4 motorcycles |
| 3 x 8 | 1 car or 6 motorcycles |
| 3 x 10 | 2 cars (end-to-end) or 6 motorcycles |
| 3 x 12 | 2 cars (end-to-end) or 8 motorcycles |
| 4 x 4 | 1 car or 4 motorcycles |
| 4 x 6 | 1 car or 6 motorcycles |
| 4 x 8 | 2 cars or 8 motorcycles |
| 4 x 10 | 2 cars or 10 motorcycles |
| 4 x 12 | 3 cars or 12 motorcycles |
| 6 x 6 | 2 cars or 6 motorcycles |
| 6 x 8 | 4 small cars, 2 cars or 8 motorcycles |
| 6 x 10 | 4 cars or 10 motorcycles |
| 6 x 12 | 6 small cars, 4 cars, or 12 motorcycles |
How do I assemble a portable garage?
Assembling couldn't be easier. Each portable garage will have a slightly different process, so be sure to check the instruction manual. However, the basic process is…
Make sure you're on level ground – try to use wooden planks or flooring if you can't find level ground.
Set up the frame based on the user manual.
Install the tarp material over the poles and secure!
We've also put together an installation video for a more in-depth step-by-step process, so you can see:
Things to consider
Here are a few questions to ask yourself in order to determine which carport will suit your lifestyle.
How much space is available?
The first step on your purchasing journey should be choosing a spot for the carport. It sounds simple enough, but it's an important decision. When you choose your spot, you will know how much space you have to work with, as well as any logistical issues you'll have to work around.
We'd recommend ensuring you give your carport plenty of space around it so it's not cramped. It will just make life easier for you when parking/storing your vehicle.
Is the space suitable for your needs?
The perfect kind of plot for a carport is an open, flat space. Other than that, it's fairly adaptable. You will want to make sure you clear the area of any debris or clutter for optimum usage. Gala's carports can be placed on a slight hill but will need to be secured by storm straps and ground bars.
How permanent will your carport structure be?
If you're looking for a quick fix solution to temporarily protect your car, you will be looking for a different kind of carport than someone who is looking for a permanent solution. Aspects such as material and accessories will depend on the length of time you're looking to keep your carport erected.
PE vs PVC
Marquee jargon can be confusing, especially when it comes to materials.
Here is information on the durability of the material available:
PE – This is a common material used in tarpaulins and groundsheets. It is a waterproof, low-temperature resistant material. PE is odourless and non-toxic. The only downsides to PE is that it can be a bit noisy in the wind and has a shorter lifespan than PVC.
PVC – PVC is considered the best material for marquees and carports. This is because it's waterproof, low and high-temperature resistant, mildew-proof and lightweight. It's incredibly durable and long-lasting.
Related content
Choosing the best material for your marquee
Your guide to weatherproof and waterproof marquees