Business Planner
Starting a business that requires a quick (ROI) return on investment with low overheads and initial start up costs?
Marquee Hire Business start up advice from Gala Tent.
Gala Tent is your number one online resource for starting a marquee hire business. Whether you are a budding entrepreneur ready to start a business for the first time or an established business, we have all the products and information you need to get your hire business started. Many of our marquee hire business customers work part-time often at weekends, or simply add their marquee hire facility on to their existing business. Whatever your motivation for starting, becoming a member of the Gala Tent National Hirer Network will help you make a success of your venture.
Advice offered by Gala Tent to new marquee hire start-ups includes:
We will provide you with a full overview of our award winning product range
We will show you how to safely set up your marquees
We will provide you with legal terms and conditions to run your business
We will provide you with event industry insurance information and details
We will advise you on marketing and promoting your new business
We will provide you with a guiding marquee hire pricing structure
We will show you how to win government marquee hire contracts
We will even finance you new project INTEREST FREE! (Ts & Cs Apply)
And when you invest in your new event industry business
We will also provide you with marquee hire booking leads
We will write your pr story and a press release to get you in the papers FREE!
We will also provide you with a guide book containing all you need to know for starting a new business and working in the event industry.
Free Marquee Hire business start up consultation
You can book a free marquee hire business start up consultation, where you can speak to our experienced team and meet our Managing Director, Jason Mace. Gala Tent will advise you on pricing and general marquee hire business opportunities in your area. Contact the Gala Tent sales team using our contact form and reserve your slot now.
"Hello Jason, Thank you for our meeting, It was good to meet you and your staff and it helped me to see a clearer picture of what I intend to achieve for my marquees hire company."
Dave Blackett - Sawtry Marquees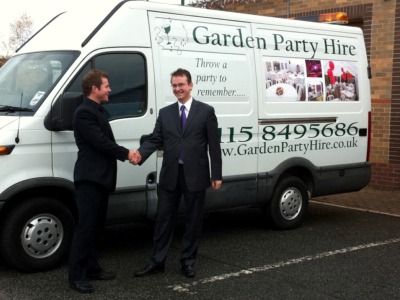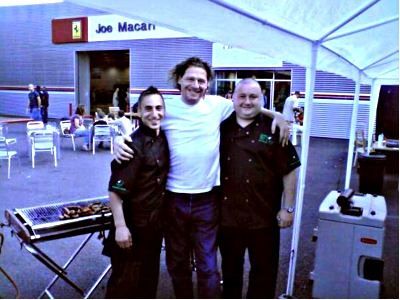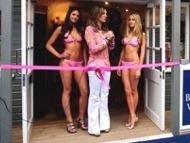 MD Jason Mace of Gala Tent meets Justin Harris MD of Garden Party Hire based in Nottingham. Justin is a Gala Tent client who recently built a very lucrative marquee hire business from a standing start and initial investment of £2500. Justin said his books are full with many clients rebooking for next year besides new business coming in on a regular basis. Justin converts an average of 93% of enquiries in to bookings most of which are word of mouth, summer and Christmas being the most profitable. Justin is averaging 250 marquee hire jobs per year with an average price of £700. Jason said "What a cracking business its so nice to hear a success story in these tough economic times". Justin plans on expanding his empire into further areas of the UK, when asked what is the secret of his success Justin replied, "Total honesty with my clients, they ask to hire certain size marquees and equipment and I recommend what they require and then inform them how much they've just saved from alternative suppliers, my clients refer me to friends family and business associates as I provide them with an occasion to remember at unrivalled prices along with impeccable service" Some of Justin's clients include A list celebrities check out the photos
Well-done Justin!
Lucrative Marquee Hire market
There are a myriad of uses for Gala Tent marquees for you to hire in your local community; from the hiring of small, portable marquees for garden parties and fetes, to large scale events like country shows and corporate hospitality. There are also local government and corporate hire contracts to chase.
Free hire advertising and sales leads
The Gala Tent creed is that when you are starting a hire business you need as much support and advice as you can get. Full advertising on the Gala Tent website will ensure you are successful from day one. We will provide you with hire leads to potential customers as Gala Tent receives hundreds of information requests each month for hire services across the UK.
* We can offer a website for your business, populated with information and event photos to get you started (separate agreement)