Gala Tent providing injured troops with the chance to get involved in motor sport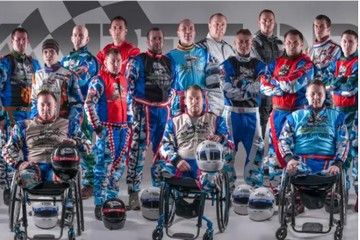 Gala Tent, one of the UK's leading manufacturers of marquees and gazebos, has donated a marquee to KartForce, a charity dedicated to providing injured troops with the chance to get involved in karting.

The marquee manufacturer donated a 6x10 metre marquee, as part of giving back to the community, which Kartforce will use at events throughout the year. KartForce currently has 29 regular kart drivers, who are taking part in major events such as the Le Mans 24 hour, the Isle of Man 24 hour and the British 24 hour.

Dave Player, ex-serviceman and founder of KartForce, said: "We are delighted with Gala Tent's donation of this high quality marquee – we really appreciate their generosity and support. It will make a big difference, as our karters take part in many long races in the wet and cold, and need somewhere to get warm, dry, and recover! Thank you Gala Tent, what a fantastic way to start the New Year!???

Jason Mace, Managing Director of Gala Tent, said: "KartForce is an amazing organisation and after hearing of their need for a marquee, we were proud to be able to offer them one of our marquees for their events. We wish them well as they compete in their national and international events and continue in their excellent work supporting ex-service personnel.???

The high quality watertight Gala Tent marquee boasts Georgian style windows offering shelter to drivers, crew and spectators, plus it has ample work space for last minute mechanical work on the karts.

Gala Tent marquees are renowned for being easy to assemble and to make things even simpler, the company provides a YouTube video for guidance, showing how it takes approximately seven minutes to assemble!

Folding away into a compact case, Gala Tent's marquees are easily portable – a must for Kartforce as this year's race calendar requires the team to travel around the UK, and even to Majorca!

KartForce, founded in 2010 by ex-Army Dave Player, has a growing number of members who are given the opportunity to get involved in karting, whether that be as a leisure activity with friends and family, a group event with other injured soldiers, or as a competitive sport racing against non-injured teams. The benefits are that it enables social interaction between ex-service personnel and helps with the rehabilitation process.